The Altruist's Index:
Building Best Practices for Volunteerism

MFA Thesis Project, 09.2018 - 05.2019
---
Altruistic efforts for social improvements must be guided, not purely by emotion, but with a well thought out objective strategy and end point.
Barbara Oakley. Pathological Altruism (New York: Oxford University Press, 2011), 237

OVERVIEW


This project looks at the prevalence of pathological altruism in caregiving situations, with a focus on volunteerism in refugee resettlement within the U.S. This project is done in partnership with the International Rescue Committee (the IRC) San Jose office and Sacramento office.


THE PROBLEM


When a person arrives in the U.S. under refugee status, there are many tasks for each to complete, on top of all the miscellaneous tasks that a newcomer would need to learn to adjust life to a new place. To help with this whole process, the IRC recruit volunteers to support a client's resettlement journeys. For example, volunteers help sourcing donated furniture and help with the moving process; in other cases, volunteers may take clients to their very first medical appointments since clients may not know how to navigate through a city's public transportation system when they arrive.





︎A community garden in Seattle, compeletly run by refugees



However, on the other hand, there are many issues when volunteers, often those well-off and with certain privileges, came in with good intention to offer the best help to refugees but actually created more harm than good. For example, some volunteers' generosities actually hindered clients' progress from becoming independent. A common problem is that some volunteers would take clients to grocery shopping or to other places that clients wanted to go every time. While on the contrary, clients should be practicing how to use public transportation and become independent. Alternatively, in even worse scenarios, some volunteers wanted to adopt a refugee family and was unhappy with the IRC when staff stopped them from doing so.


FINAL OUTCOME


The final outcome of this project is the combination of three design interventions: 1) the orientation experience, 2) the Redesigned routine object as prompt object and 3) the Self-guided curriculum in the form of an App. Combined together, they formed a system-based response to the challenge of pathological altruism, or problematic caregiving, in refugee resettlement volunteering. The objective of this system is to help volunteers to reflect on their own behaviors and create healthier altruistic actions that can help them provide better services to refugees.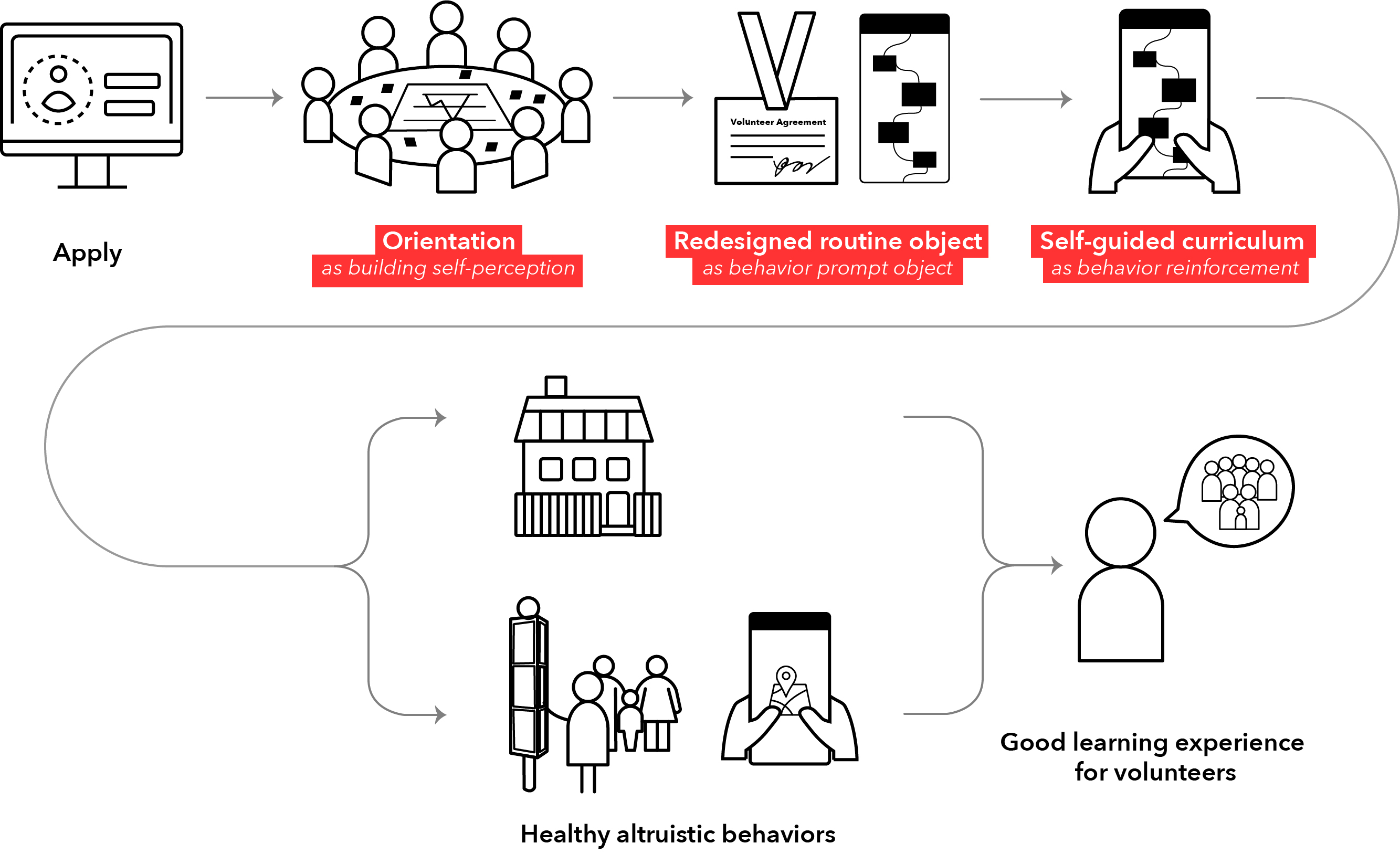 ︎Three-part design interventions to the existing system as final outcome (highlighted in red)
︎Final prototype of the App
THE PROCESS

︎Project process illustration

STAGES OF DESIGN-AS-INQUIRY

There were no predefined stages as I was working on the thesis. However, examining the whole process in hindsight, three milestones marked the progression of the project and the thesis process, which can be divided into three stages.

Stage 1: Validating Assumptions

I started the Design as Inquiry stage with an assumption that the different perception around "help" between refugees and volunteers is the root cause to the pathological altruism problems.


︎

Left: Journey Map for the refugee resettlement
Right: Journey Map for the volunteer engagement

With the aim to understand stakeholders' emotions and perceptions during the resettlement journey, I started the inquiry process by wanting to engage stakeholders with Journey Maps that were designed to engage separately with volunteers and refugees to map out their emotional process and perception of the idea throughout one's resettlement process.

While creating these tools, I tried to reach out to potential partners and engage with refugees and volunteers at the same time. During the outreaching process, I got in contact with the International Rescue Committee Elizabeth (NJ) office, the Catholic Charities New York, Church World Service New Jersey office, the Sanctuary Kitchen New Haven office to introduce my thesis project and demonstrate the tools.

After many trials and fails, this eventually proved to be not possible. The most important reason is that refugees came in with diverse backgrounds and different level of speaking English, so the language barrier made it not possible for me to directly interact with refugees.


Learnings:
Problems are prevalent across different organizations but no one seems to be able to clearly define the problem;

Stakeholders could be Volunteer Coordinators at organizations

Stage 2: Finding Focus

Having learned that New York City is not a typical resettlement place for the majority of refugees and because of my established relationship with the IRC, I reached out to the IRC offices in Northern California - the IRC Sacramento and IRC San Jose office.

While working with the volunteer program staff from both offices, I introduced Challenge Mapping tool to them. During the creative session with we mapped out barriers and values in this space, and reframed the key question to ask in this project as "How might we engage volunteers from a place of informed empathy to empower refugees?"


︎Challenge Mapping outcomes


The reframed questions pushed me to investigate further into:
1. What does "informed empathy" look like?
2. How to inform volunteers?


Learnings:
Focus identified: to engage volunteers from a place of informed empathy to empower refugees;
Partnership established: the IRC San Jose office and the IRC Sacramento office

Stage 3: Co-Designing

Part I

The current orientation was conducted in a lecture style, where volunteers were given information on facts about refugees, the resettlement process and some code of conducts. Even though this form of orientation gives participants a detailed explanation of the context and some commonly ignored or misunderstood facts, participants are passively engaged during the whole orientation process.

I saw the existing volunteer orientation as a good opportunity to bring in workshop format to make orientation a more participatory and engaging experience.

Having learned from research that film and literature is the best way to teach empathy, I designed a Scenario Workshop and invited the staff member from the IRC San Jose office to participate. During the workshop, participants watched a video piece with curated open sourced media contents and were asked to share their thoughts and have a discussion.



︎Scenario Workshop session at the IRC San Jose office with staff and interns from different departments.


The objective of the workshop is to engage participants to have a genuine discussion together around the understanding of refugee crisis to erase some unconscious biases a person may have, to reflect on one's intentions of being a volunteer, to build proprer self-perception in the role as a volunteers and set proper expectations.

By the end of the workshop, participants reflected that during the collective discussion, we talked about so many issues that would never happen if there hadn't been this workshop. Participants, as they are staff, agreed that this kind of format will actively engage volunteers to have an informed understanding of refugees, and even be able to break down the entitlement of volunteers that staff have witnessed in some cases.

Following the Scenario Workshop, participants were asked to sign a volunteer agreement as a gesture of making written commitment and write down their takeaways from the discussion on stickers to assemble a work badge for themselves. The badge kit, containing participants commitment and refections, were then given to them as a

prompt object

to wear every time they go out to work with refugees.



︎Workshop participants creating their own work badge.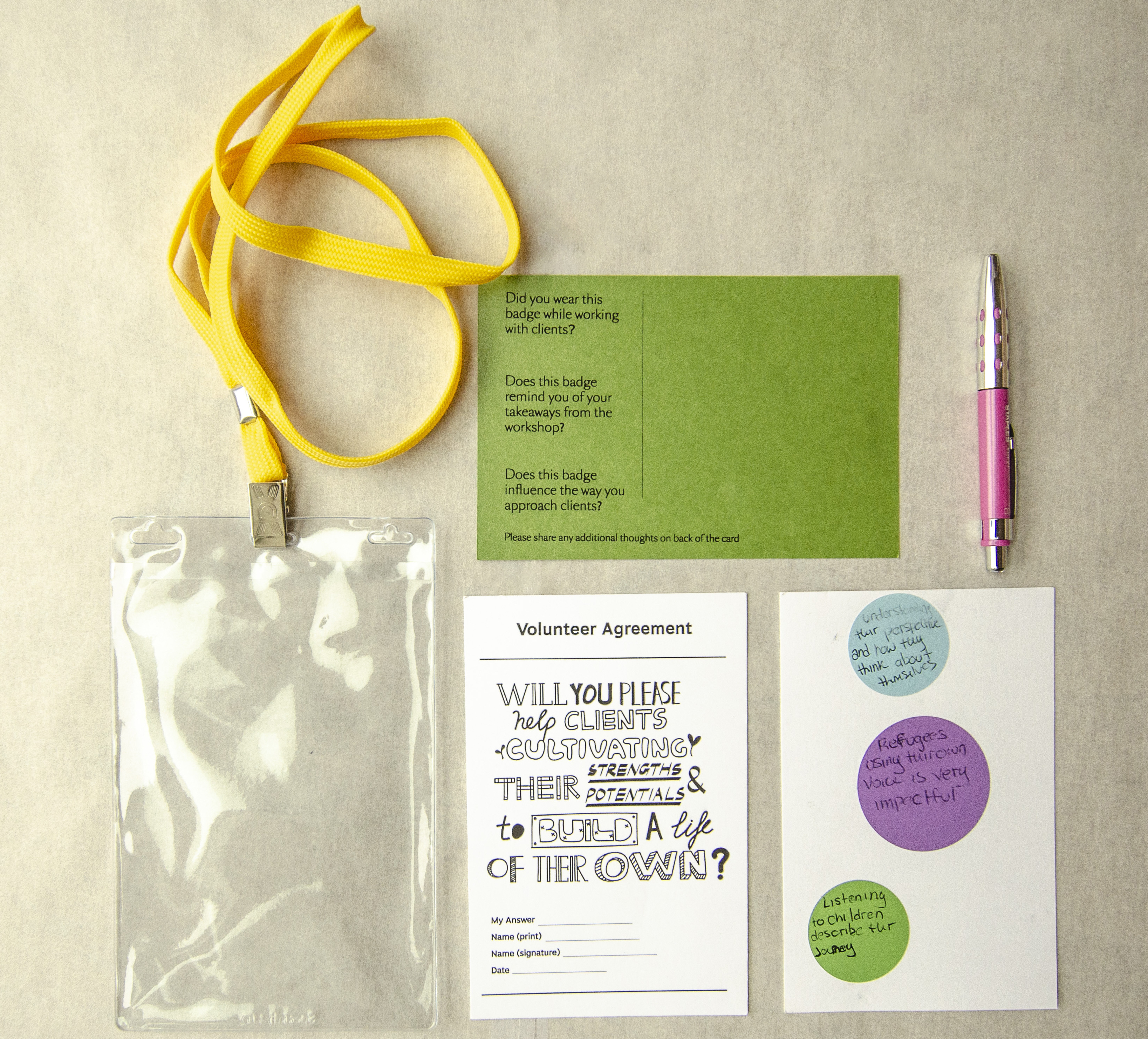 ︎

Left: The Cultural Probe kit
Middle: Work badge front side with Volunteer Agreement;
Right: Work badge back side with workshop takeaways

A review of numerous commitment studies indicated that self- perception is the most critical factor in determining why commitments work. In other words, commitment work when an individual comes to see him or herself as the type of person who believes it is important to behave in a particular way. A study has also proved that written commitments appear to be more effective than verbal commitments. In the previous workshop discussions, participants were guided to reflect on their motivations and expectation of being a volunteer, and the guided discussion was aimed at cultivating a healthy perception of themselves as volunteers, a perception with more informed empathy towards refugees and fewer assumptions of refugee's needs.

As forgetting is a common barrier to people who want to engage in sustainable behaviors, how might we make sure that when volunteers are in the field by themselves while working with IRC clients, volunteers can remember their commitments and act in the anticipated manner? According to a study by Doug McKenzie-Mohr and P. Wesley Schultz on Choosing Effective Behavior Change Tools, Prompts need to be noticeable and self-explanatory and presented in close proximity to the repetitive behavior; prompts should target positive behaviors rather than encouraging the avoidance of negative behaviors. Thus, I tried to tie the reminders of positive behavior to the existing routine of wearing a work badge to create prompts for behavior change.


Learnings:

Onboarding workshop should cover building self- perceptions, setting expectations and roles.




The badge needs to be able to evolve;




The work badge kit doesn't work as intended, but the idea of using work badge as a prompt object is promising.

Part II

According to some behavior change intervention case studies, if the target behavior is extremely difficult, the critical first step to promote behavior change is to make it more convenient. Tying this theory to this thesis project, in order to reinforce positive behaviors of volunteers, there needs to be some kind of artifact that can guild volunteers through a process that's new to them. The rationale of building an artifact like this drew me to the idea of proposing a digital application (the App). significant amount of info, but portable. Thus, the combination of the scenario workshop, work badge and the App formed a system of behavioral tools.

Based on this, I designed the first iteration of the digital application and presented with my stakeholders during the end of March 2019. Participants of this creative session - IRC San Jose staff members and
interns - were the same as participants in the workshop in Part I. When I presented the project to my stakeholders, they give very positive feedback on the function of the digital application and the intention to tie a digital product to an everyday object. In general, participants agree that the combination of initial training, revised work badge, and the digital application is a great system to tackle existing problems and could be implemented in the future.





︎

Low fidelity wireframes of the first iteration of the App



Learnings:


I presented this idea to my stakeholders to invite them to share their thoughts and propose new ideas. During the feedback session, some participants suggest combining volunteers hours log-in with the application, because one of the routines for volunteers is that they have to log in their hours of volunteering. Besides this, stakeholders also suggest making the application sociable so that users can be more actively engaged in the sharing process; and include some prompts to make it even more interactive.




REFINING PROTOTYPES


Therefore, based on this reasoning and all the feedbacks I have received, I revised the prototype.

The main feature of the App is a curated storyline that consists of hybrid media contents to present narratives, a function for users to share their volunteering learnings to create their own storyline and submit the content to be featured on the main storyline and a social platform for users to review each other's storylines to learn about each other's experiences.





︎Left to right:

Animated Launch Screen, The Storyline screen - part I, The Storyline screen - part II, The Storyline screen - part III, Learnings Sharing screen, Personal Storyline and Networking screen


Upon opening the app, users will be taken to a storyline curated by IRC staff members. For example, in the storyline presented here, content is color coded and organized in emotional stages that volunteers often went through. Users can scroll up and down to pick a resource to view. Users can write down their learnings and thoughts, both after reviewing the contents here, as well as after their field work. They can include media content as photos or videos from their field work. They can post the learnings on their personal storylines under either their real name or be anonymous. All postings shared could potentially be reviewed by the IRC staff member and selected as the application storyline content. Users can also connect with each other through the social channel of this App.

REFLECTIONS & NEXT STEPS

Even though the current design interventions are proposed as the final prototypes of this project, there is still room for further refinement and improvement. Due to certain limitations, I did not have access to work with volunteers and refugees firsthand. If I could continue this project in the future, I would like to collaborate with a resettlement agency and carry out this project together with the input from volunteers and refugees since they are the core demographics of the stakeholders. I would also like to expand this project to other situations of caregiving, for example, in the context of cancer caregiving. I want to explore how the current design interventions generated in this project can be applied to another context and what are the changes that need to be made because of the change of context.


---
This project would have not have been possible without the help from:

Faculty Mentor: Jamer Hunt

TransD Thesis Faculties: Lara Penin, Elliott Montgomery, Eduardo Staszowski, Patricia Beirne, Georgia Traganou & Anna Matthiesen;

The International Rescue Committee:
Airbel Center - Elena Matsui, Amanda Porter, Benjamine Moskowitz and colleagues IRC San Jose - Amanda Gamban & colleagues IRC Sacramento - Missy Orr & colleagues IRC Seattle - Adrienne Ramm-Granberg & colleagues

Myles Bryan

Ker Thao

The Transdisciplinary Design Class of 2019