The Poetic Form
︎Role: research, workshop design & facilitation, visual design
---
OVERVIEW


The reality of the criminal justice system in the United States involves more than two million people currently behind bars, something like one in a 100 residents imprisoned and one in 31 citizens in parole or probation. Projects such as the Million Dollar Blocks reveal how specific neighborhoods in the country's big cities are particularly affected by incarceration and how systemic social issues are at the heart of this reality. Here in New York City, Brooklyn Public Library (BPL) has adopted a decisive patron-led approach, and part of Brooklyn Public Library' new strategic efforts include establishing branches as re-entry resource hubs in neighborhoods with high rates of justice involved people.

We start this project by engaging with and contributing to the development of services and programs related to incarceration and reentry offered at the BPL system. In the first phase, we explored the emergence of libraries with an expanded social role, acting as community hubs and converners/venues for democracy and social justice. In the second phase we identified potential new areas for exploration and design action from both the outcomes of phase 1 as well as other relevant actors.


Design-led Research


Besides desktop research, to understand We started the project with designing a workshop as a form of inquiry to engage with community to understand the library's role as a service provider. We held the workshop at the Bedford Branch of the Brooklyn Public Library. Participants of the workshops are current librarians, library staff, designers, officials from the Mayor's Office of Criminal Justice, reentry service providers, community organizers, and patrons.

Workshop structure:


Video ethnography
We presented ethnographic video footages that were shoot at the BPL Bedford library with participants to provide context for non-BPL staff about library's role, function and work. The videos were shoot over the course of two weeks at the library, contents are ranges from routines of library daily operation to conversations with staff around library services. After viewing the videos, participants were asked to write down things that stood out to them and then share with the group.


︎ Participants sharing thoughts generated from watching video footages

2. Card Sorting Activity
Card sorting activities were designed to understand current BPL organization culture and its patron-led approach that works towards serving the needs of its users that might vary in the different branches and neighborhoods/ communities each branch serves. We premade cards in the categories of "I see / I hear / I feel cards" based on our research around BPL services and previous engagement with library staff. Participants were asked to categorze and share the reasons behind their move.


︎ Participants sorting out "I see / I hear / I feel" cards

3. Futures Wheel
Building upon previous discussion and a much clear understanding of BPL's work among all participants, the question comes next is how might we leverage current BPL's organization culture, to provider better services to patrons? And i
n particular, to provide better re-entry services for people in need. In this activity, we used Futures Wheel to provoke participants to expand on the status quo of BPL services to the future of these services. In another word, how can BPL do better?
︎ Participants filling out Futures Wheel around "BPL as service provider"

Synthesis & Ideation

During our synthesis process, one moment in particular from the workshop caught our attention. Amid the activities and exercises, a separate, heartfelt, and extended conversation about identification cards broke out.

In reviewing these conversations, we realized that in the midst of all the changes around and within Brooklyn Public Library, one thing has remained largely unchanged – the library card. The physicality of the early library tickets meant that receiving a card and checking out books was a ritualistic process, with physical stamps dating both the ticket and the book; nowadays, the sheen of technology have replaced the ritual of stamping with the ubiquitous and efficient swipe.

On the one hand, these advancements in technology have allowed the modern library to make time for creating services and fostering relationships. But, on the other hand, this technology has led to the loss of ritual. Library card sign-ups are quick. There is a lack of genuine connection and conversation. Perhaps this lack of communication has contributed to the confusion surrounding the library that we discovered in our workshop.

It was this finding that led us to begin a further investigation of library card sign-up process and the larger service system the card itself entails.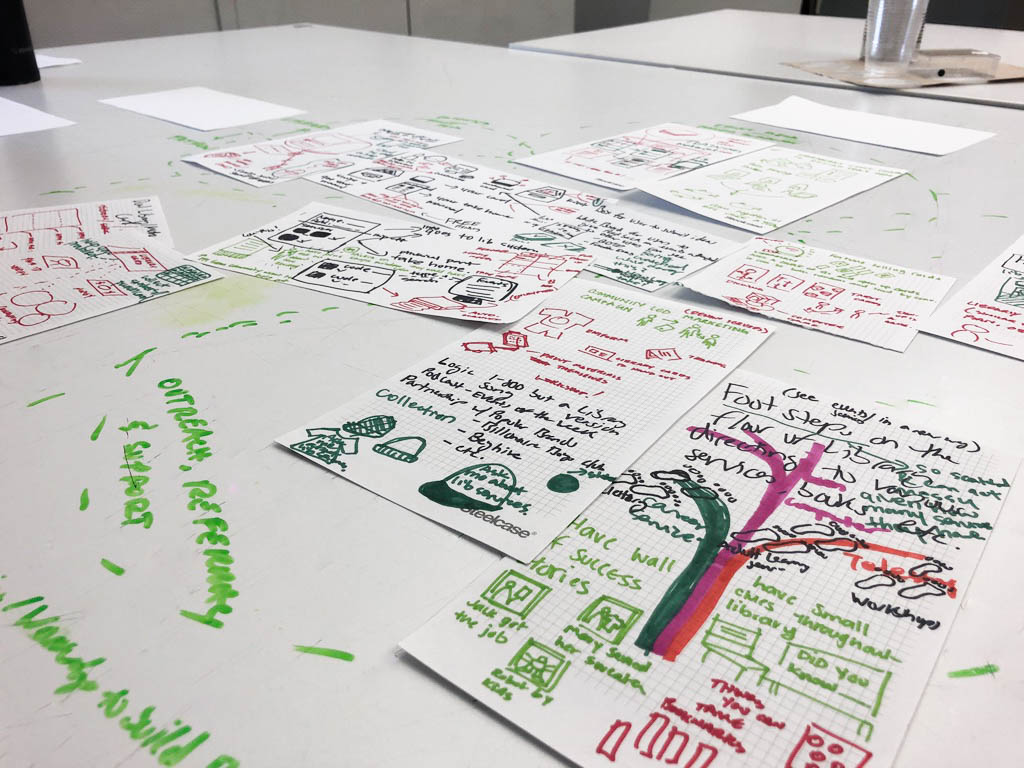 ︎ Sketching and grouping ideation process.


In studying bureaucracies, we came to understand that they might be understood to exist on a spectrum. On one end are the "cold, impersonal" processes that we are all familiar with, inseparable from the DMV and the Hospital. But, on the end of the spectrum are theoretical "poetic" bureaucracies, capable of bringing "wild, impossible fantasies to life."*


︎The spectrum of bureaucratic possibility

We were struck by this notion. We set out to design a form, and a process, which was poetic. We established a set of design principles, framed as a question, which asked:

How might we design a process that:

Provokes Questions
Creates Space for Discussion
Fosters (Systemic, Reciprocal) Learning


We believe that by developing a bureaucratic process which follows these three principles, we would be successful in creating something poetic. We were driven by the question: What is a poetic form?

We generated a number of ideas based on our map. From this initial session, five categories of ideas emerged:

Feedback Loops
Outreach, Referral, Support
Expanded Library Card
Extended Front Desk
Front Desk Support and Process
Design & Prototype


Prototype 1


FAILED


Our most direct attempt at creating a "poetic form" was a redesign of the paper library card application form as a set of cards with some additional questions. When we showed this to the librarians at the Bedford Branch, we found that, actually, there are very few (if any) paper forms available in the library. Almost all library card applications are filled out by the librarians on their computer, or, if it's busy at the front desk, on a designated computer in the library. Once the form is filled out electronically, the librarian checks the patron's documentation to verify the information, and a library card is processed, electronically, at the front desk.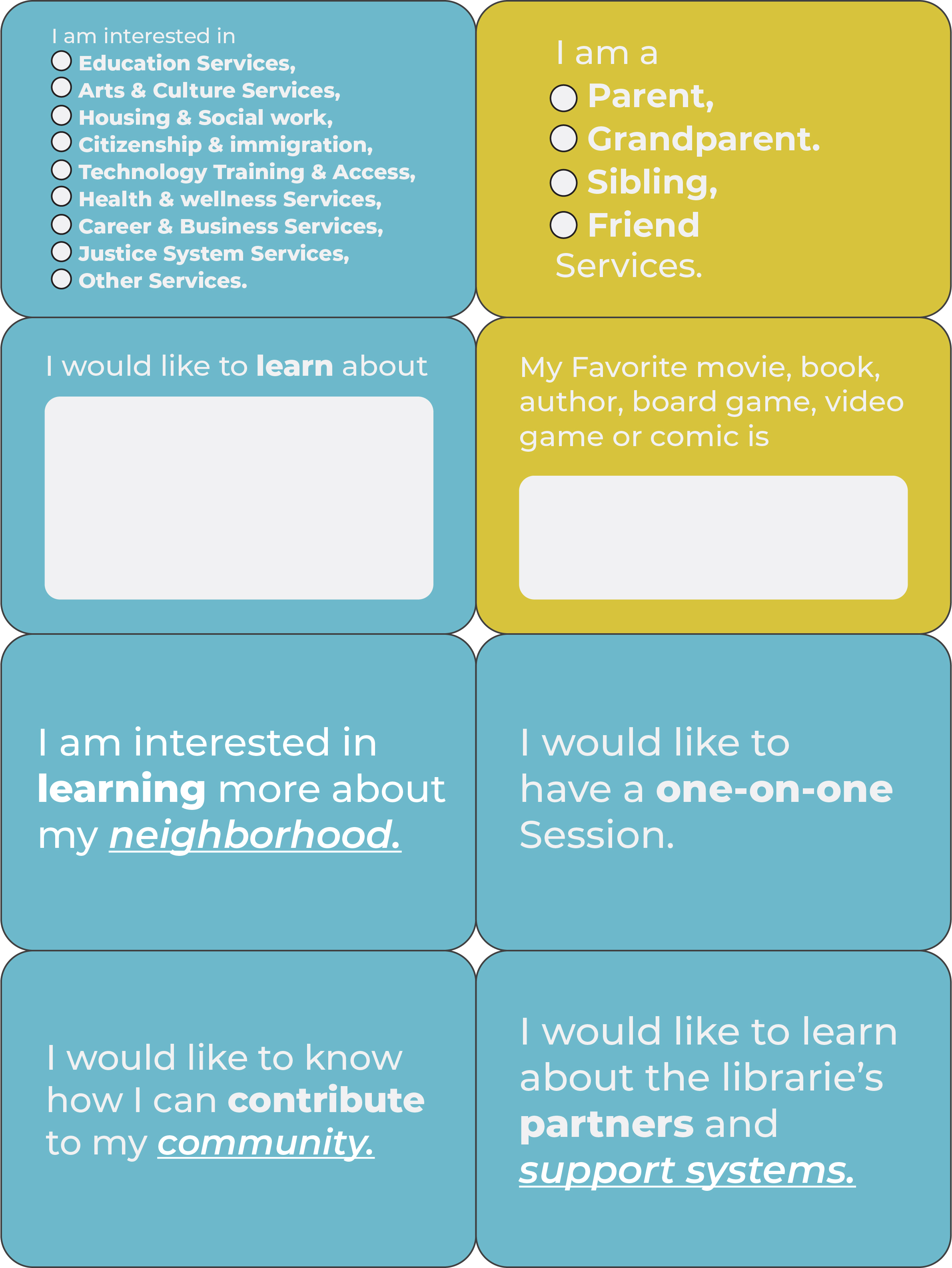 ︎Poetic Form Card concept prototype


We learned:


At the moment, there are no direct feedback mechanisms between patrons and library staff regarding programming and services. We were told that, because of this lack, oftentimes events and programs are poorly attended - the librarians simply don't know what will be successful. By asking patrons if they were interested in any services in particular when they signed up for a library card, the librarians hoped to close this loop.

Prototype 2


FAILED


We redesigned a library card with a brief "word game" on the back. The phrase on the back of each card was randomly generated, based on language from the Brooklyn Public Library 2018 Strategic Plan. The hope was that these cards would create a moment of pause, cause confusion, or encourage conversation between patrons and librarians.


︎Prototype library card prototype concept
When we showed this prototype to librarians, however, the changes were summarily ignored. As it turns out, library card designs change rapidly at the whims of the marketing department, often in conjunction with events or book deals. Librarians often ignore new changes to the card designs. However, in the time we spent at the Bedford Branch, we did observe moments of playfulness as a result of the library card design. For example, there was a charming moment when a patron was given a choice between a boring blue card or a card with illustrations from "Where the Wild Things Are". This shows that perhaps there may be an intervention which plays with the library card design, but this particular prototype intervention was not a hit, perhaps because it was too passive or opaque.


We learned:


We learned that creating a moment of pause, or an invitation for conversation needed to be intentional.

Prototype 3


FAILED


In order to better inform patrons about the services available at the Library, we created a fold-out booklet that would be distributed when patrons received their library card. Again, we hoped to create a moment of pause, to provide information for the patron, and to encourage conversation and playfulness. However, this idea was met with a lukewarm response.

︎Manifold Reference Booklet prototype concept


We learned:


We learned that our intervention would need to be "sticky".
These booklets would need to be printed and shipped to each branch. Similar booklets have been tried in the past, but after some time they fell out of use, simply because they were not reprinted once the initial stock ran out. Because of this, we decided we needed to find another way to share this information, in some way that would stick.

Prototype 4


FAILED


We created a deck of cards with the aim of asking patrons gentle probing question and directing them to services that the library offered. This deck of cards received the most feedback from the librarians. Initially, they were very interested in the idea and encouraging. However, once the librarians took a second look at the deck of cards, they found that there were serious problems with the way the questions were phrased. A lot of the services that the library offers, which were referenced by the cards, are sensitive subjects. The way the questions on the cards were phrased was often assumptive and broached topics that would be deeply personal for many people. Ultimately, the librarians didn't feel comfortable asking the questions on the cards. We asked if the deck of cards could be left on the front desk for patrons to peruse on their own, so that the librarians wouldn't need to ask the questions as they were written. The librarians agreed that this use of the cards was more appropriate, but called into question the "stickiness" of the solution, saying that things have a tendency to "walk away".

︎Librarian notes and sorting of card deck


We learned:


We learned that the process of creating spaces for conversation would need to be an open invitation to share, not a question based on assumptions.

Prototype 5


SUCCEED


After gathering feedback from our prototypes, we proposed a new intervention: The introduction of a new library card sign-up process.
︎Demo of the new library card sign-up process
This sign-up process would ask all patrons what services they would be interested in and invite them to fill in any specific wants or needs. This process also provides links to sign up for a one-on-one session with a librarian and asks if patrons would be interested in learning about the library's extensive connections and partnerships with community organizations.

︎Updated Library Card Backend View for librarians of individual patron data
On the backend, librarians will be able to see a patron's suggestions, both individually and in aggregate. On the individual level, when a patron comes to the front desk to activate their library card, the librarian will see an invitation to begin a conversation about the patron's interests and needs, and share with them information and calendars that may be helpful for accessing services. These communications and calendars are all highly individualized, and the information provided is greatly dependent on time, location, and situation. This application form does not replace the need for communication and connection, it simply invites this communication to happen.

︎Backend view for librarians of aggregate data
In aggregate, the data is collected and presented visually to librarians in a way that encourages conversation. It would be easy to imagine a list of the most requested services, but this seems rather rigid. A wonderful anecdote from our visits to the Bedford Branch is that the librarians came up with the idea to hold a "baby yoga" event - which was a huge success! We want our data visualization to encourage similarly unique events. To accomplish this, we propose a Word Cloud, with filters available to sort the data based on Service Category, Library Location, and Whether Or Not the Service is Currently Offered, as well as Date sorting. By visualizing the data in a way that is vague and (to some extent) randomized, we hope that it will be open to interpretation, and encourage conversation and lead to more creative programs.

Overall, by including this question and backend functionality, we hope to accomplish four goals:

Make patrons aware of all the services that the library offers.
Provide a space for patrons to give feedback and be heard in a private way.
When patrons come into the library to activate their card, the information provided in these questions creates an invitation for conversation.
The information shared can be used by librarians and library staff to plan events and create new service programs.
NEXT STEPS


We understand that our proposal is only a fragment of the larger library service system and we see the potential of leveraging the implementation of this new system to provoke behavioral change around use of library services. In the future, we hope to keep exploring how might we:

Adjust the process to incorporate greater feedback and conversation of BPL services

Explore further the ways in which the new data generated is being collected and used

Adjust the process/Library Cards towards Pre-exit and Re-Entry Processes

Add additional portals or access points to service information


Bibliography Notes:
*Graeber, David. The Utopia of Rules on Technology, Stupidity, and the Secret Joys of Bureaucracy. Melville House, 2016, pp. 141-191.

---
Team: Yuxin Cheng, Alik Mikaelian, Ryan Westphal, Jonique Lyles Special thanks to: John Bruce, libarians at BPL Bedford branch and BPL Central branch staff for anwering all our questions and participating in our co-creation sessions