Heartfelt Tidbits
︎Role: Research, workshop design
---
BACKGROUND


This project is a workshop designed for the Social Innovation, Social Justice: Rethinking Design Anthropology event at University of Cincinnati, as a way of delivering service design tools to local service providers (refugee resettlement services). The tools are meant to be accessible and transferable so participants can manipulate later, like an open source tool.

By the time this workshop was conducted, participating organizations serve about 150 clients per week and have served cumulatively more than 20,000 people in the past 10 years. The majority of refugees are from Bhutan, many are from Middle East and Africa, and some from Latin America. However, these organizations capture data mostly based on observation and one-on-one communication with clients, there is no established ways of collecting stories and tracking impacts.

The goal of the workshop is to help organizations collecting information for measuring the impacts of activities they provided and encourage newcomers of their resettling journey in the States.


︎Workshop in progress
WORKSHOP CONTENT & STRUCTURE


We invited refugees and staff from local NGOs to participate in this workshop. During the workshop, participants are divided into groups and each group has one facilitator to help facilitate the activities. Facilitators are local organization staff that have direct working experience with refugees.

︎Workshop facilitator guide:


Part I - Storytelling Exercise

Participants were asked to bring a photo that represents "home" to them and explain why. The story sharing part was sincere and helped participants establish a sense of trust among each other.

︎Pictures participants share with us that represents "home" to them and excerpts from their descriptions:


---
"When I go to the San Carlos church and I sit with the Hispanic community I feel close to home because I remember God and my church in Guatemala."
---
"In Syria we lived on a hillside and had a small farm that I tended to. I loved taking care of the chickens the most. Now when I visit Tikkun Farms if the weather is nice I would walk around in the garden and collect the eggs from the chicken coop. Each time I do this it reminds me of home and sometimes I feel sad because I miss this life."
---
"Thinking about home is family, and these flowers represent the family because some look different but in the end, they come from the same root, and all of them are happiness in one home."
---
"At the end of growing season I would take the corn husks and other plant materials to make these items to sit on. This was made from materials I collected from his garden here."


Part II - The Settling Down Journey Mapping

We designed a journey map as a way to provoke clients to reflect back on their resettlement journeys. Clients mapped out their emotions around specific times and the activities they participated at these local NGOs around those times.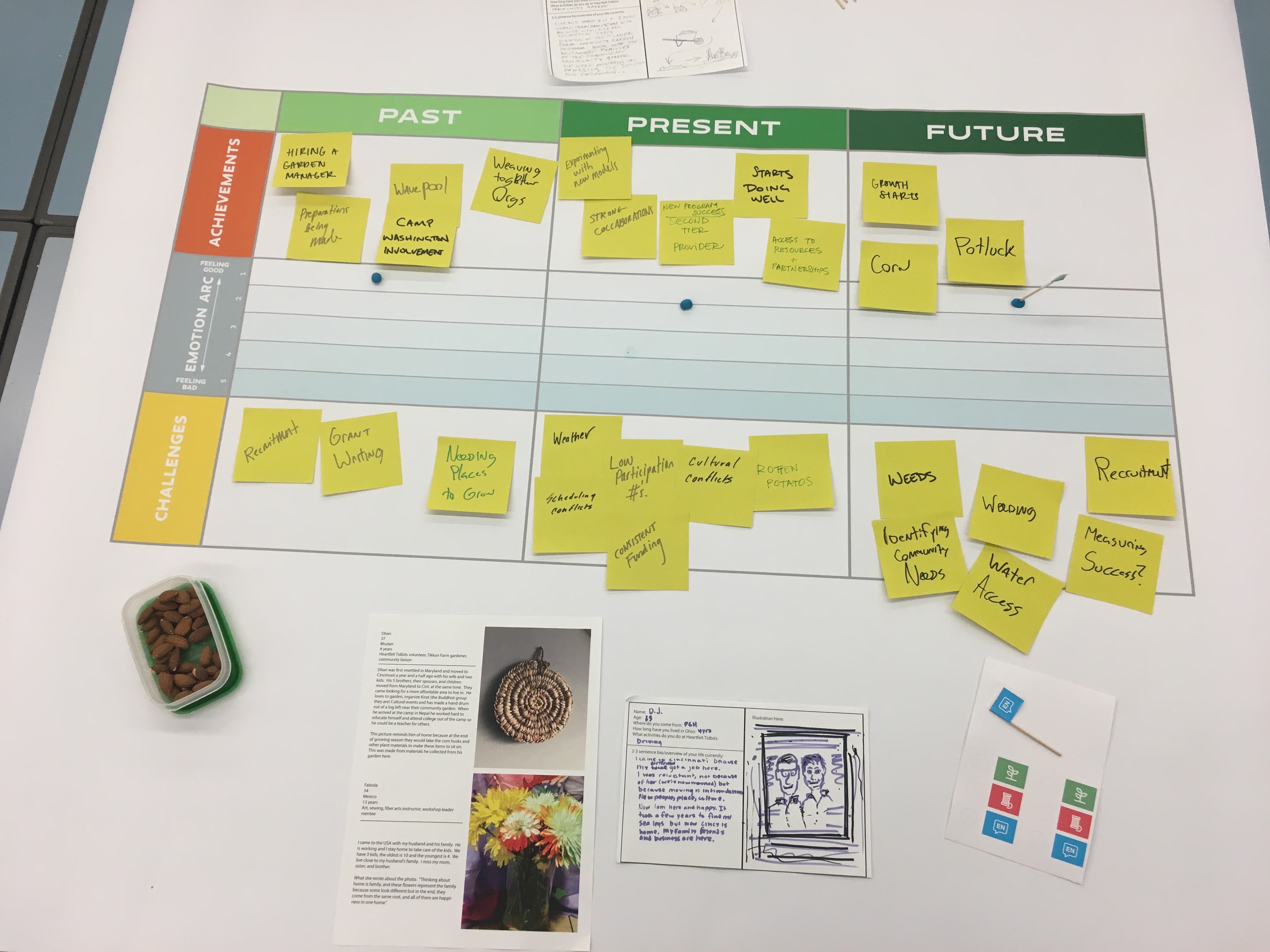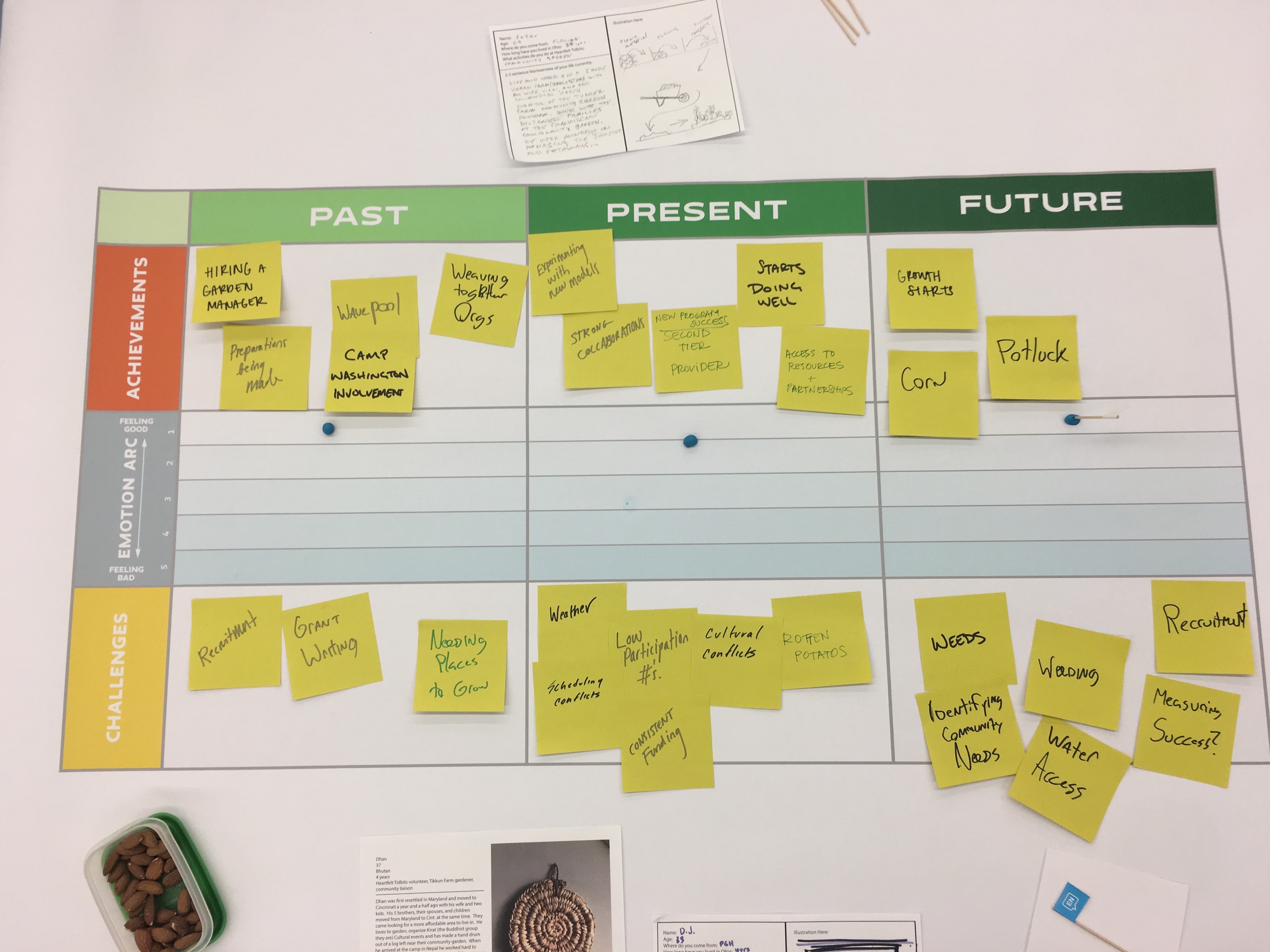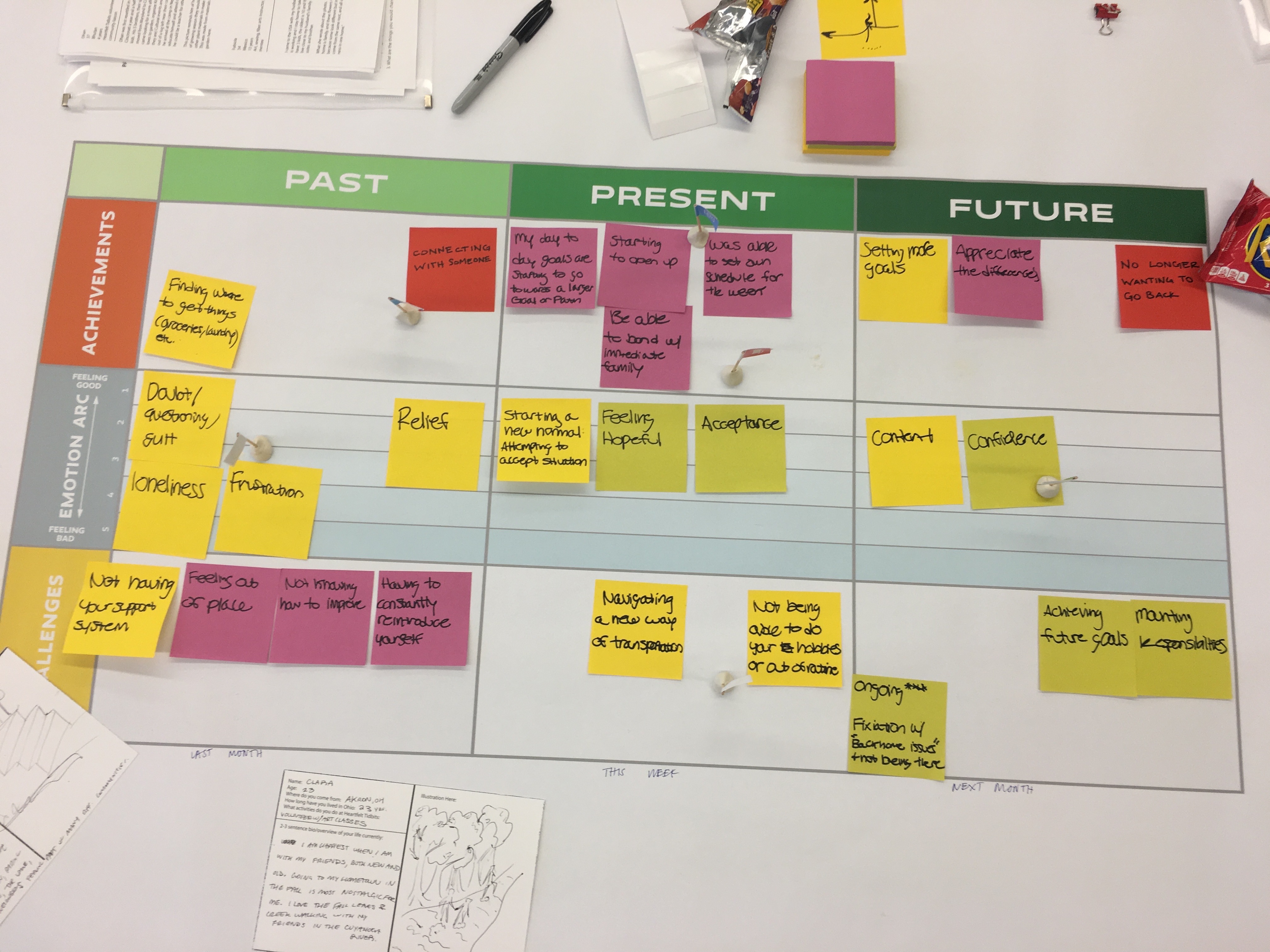 ︎Journey maps from different teams of participants.



Part III - Sharing Back

In this part of the workshop, participants and facilitators work together to see if there are any connections and patterns between clients' emotion arcs and activities they have participated at these organization, and also to share any stories around these activities. By the end, clients were asked to reflect on the life they have right now and how and also illustrated specifics moments of them.





︎Collection of participants' sharing back cards.



Participants brought home these postcards they made by themselves as a way of remembering the workshop, storytelling and connecting experience they had today. But more importantly, these postcards will remind them that there are many people here to support their resettlement journeys and are always here to help too.

---
Team: Yuxin Cheng; Hannah Roodman; Tina Qi
Advisor: Lara Penin