Foodure Institute
︎Role: research, branding, workshop design
---
Foodure Institute - Speculative Design workshop with Corbin Hill Food Project from Yuxin Cheng on Vimeo.
BACKGROUND


What does the future of food look like? In order to find out, we enlisted the Corbin Hill Food Project to help us speculate on the idea during a tailored workshop. Corbin Hill Food Project is a mixed model nonprofit / social enterprise that works to supply fresh, local food to those that need it most through its Farm Share and institutional programs. For them we developed an imaginary institute named "The Foodure Institute," a play on "food" and "future" to mirror their focus and frame the workshop.

The aim of the participatory futures workshop was to encourage and inspire employees at the Corbin Hill Food Project to amplify community members' voices and encourage them to think about their work on a larger, longer scale.


︎Foodure = Food + Future. Workshop branding asset
WORKSHOP STRUCTURE & CONTENT


The group visited Corbin Hill in their offices and ran an hour long workshop exploring the topics of food communities, technology, and agriculture in the future.





︎Our team member Jonas explaining Speculative Design and Future Forecasting to workshop participants



1. Warm up

Participants were asked to imagine their future profession 50 years from now and write down their name and future job title on the name card given to them.




︎Branded workshop asset: name card with participant name and future job title



2. Signal scanning and Futures Wheel exercise

Participants were divided into groups and to pick a signal. We pre-selected large amount of signals in the following five categories: Population/Life/Agriculture/Nutrition/Technology (P.L.A.N.T). In order to change room dynamics and invite participants more actively participating, we made printed our signals on small pieces of paper and put them into flowerpots and participants threw plastic balls into one of the plowerpots and took out one signal.


︎P.L.A.N.T signals



Having Selected their signals, participants got into their group and run scenario planning sessions by using the tool Futures Wheel to help them analyzing what could be future scenario that this signal lead to. Given that it's the first time for all participants to work with these scenario planning tools, each group has a facilitator to guide them through the process.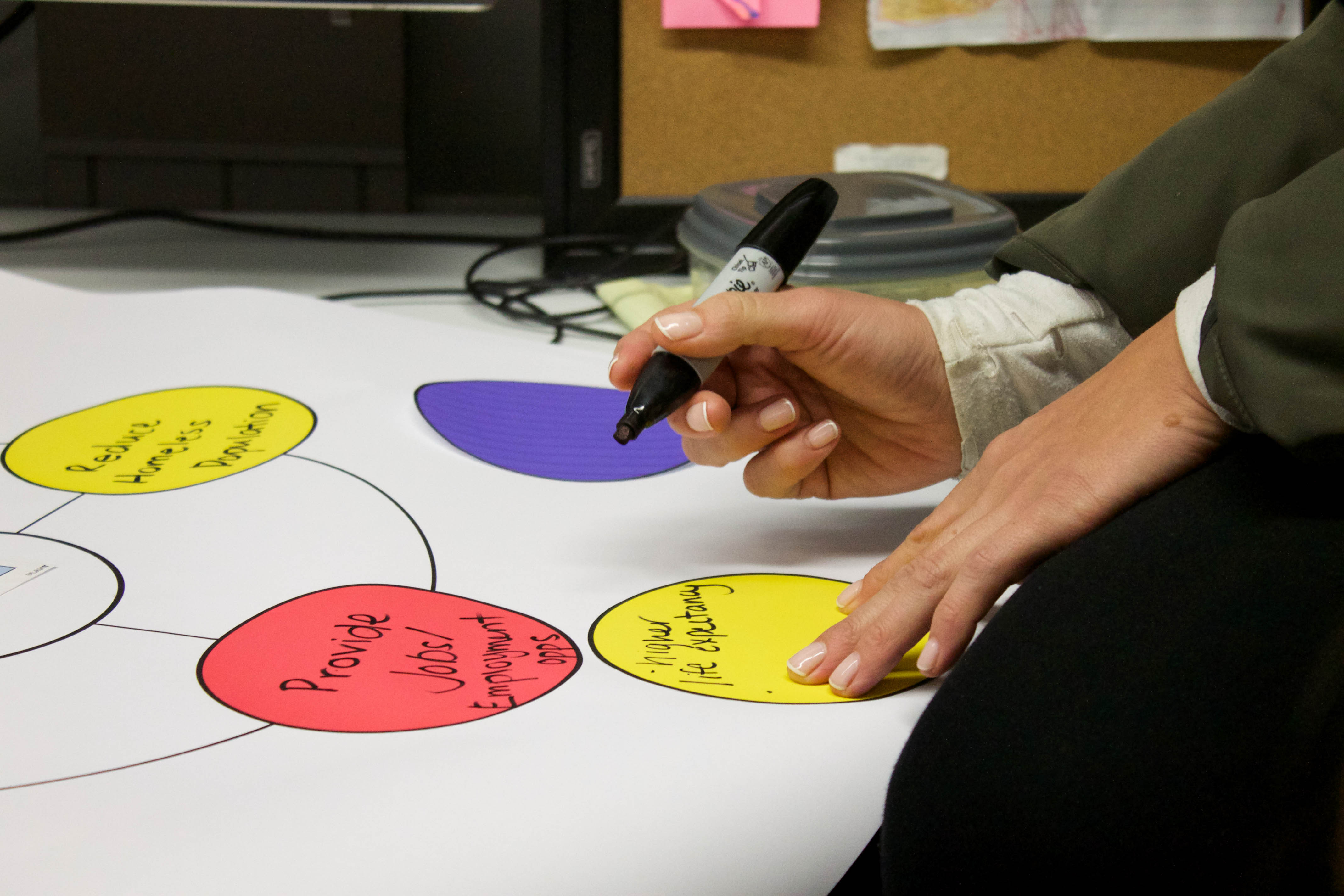 ︎Participants working on Futures Wheel



3. Rapid Prototyping

Participants then quickly visualize and prototype one of their imagined scenarios by using the materials we provided. We have selected magazine cutouts, diorama boxes, small objects and tools for participants to physically construct and represent their scenario.


︎Participants selecting assets to construct their future scenario



4. Shareback

After they completed their dioramas, we all came back together as a group. One person from each group shared what their signal was and how they imagined their future. We displayed the dioramas and each team explained how it represented that future. Then, each person shared what their future self had written to their present self. This share-back session was very rich and each team was proud of their creations.

︎Sharing constructed scenarios and postcard contents
TAKEAWAYS


After the workshop, there was very good feedback about how they might use futuring to advance their work at Corbin Hill. Some comments are:


"I think we can use this future wheel while strategizing our future. Too often we get caught up in the everyday and don't see the long term vision"

"The reflection aspect is something we don't do enough in our own work"


This workshop is the first one of its kind that we ran with people outside of academia field and are totally new to the future forecasting tools. However, the workshop generated rich results for us to reflected back on. We really felt that, given some guidance and proper tools, everyone is capable of and is interested in thinking about the probable, preferred and plausible futures.


---
Team: Yuxin Cheng, Jonas Voigt, Alyssa Kropp, Megan Willy and Mariana Gonzalez Ruiz Velasco


Special thanks to Corbin Hill Food Project.