The Altruist's Index:
Building Best Practices for Volunteerism

MFA Thesis Project, 09.2018 - 05.2019
---
Altruistic efforts for social improvements must be guided, not purely by emotion, but with a well thought out objective strategy and end point.
Barbara Oakley. Pathological Altruism (New York: Oxford University Press, 2011), 237

OVERVIEW


This project looks at the prevalence of pathological altruism in caregiving situations, with a focus on volunteerism in refugee resettlement within the U.S. This project is done in partnership with the International Rescue Committee (the IRC) San Jose office and Sacramento office.


THE PROBLEM


When a person arrives in the U.S. under refugee status, there are many tasks for each to complete, on top of all the miscellaneous tasks that a newcomer would need to learn to adjust life to a new place. To help with this whole process, the IRC recruit volunteers to support a client's resettlement journeys. For example, volunteers help sourcing donated furniture and help with the moving process; in other cases, volunteers may take clients to their very first medical appointments since clients may not know how to navigate through a city's public transportation system when they arrive.





︎A community garden in Seattle, compeletly run by refugees



However, on the other hand, there are many issues when volunteers, often those well-off and with certain privileges, came in with good intention to offer the best help to refugees but actually created more harm than good. For example, some volunteers' generosities actually hindered clients' progress from becoming independent. A common problem is that some volunteers would take clients to grocery shopping or to other places that clients wanted to go every time. While on the contrary, clients should be practicing how to use public transportation and become independent. Alternatively, in even worse scenarios, some volunteers wanted to adopt a refugee family and was unhappy with the IRC when staff stopped them from doing so.


FINAL OUTCOME


The final outcome of this project is the combination of three design interventions: 1) the orientation experience, 2) the Redesigned routine object as prompt object and 3) the Self-guided curriculum in the form of an App. Combined together, they formed a system-based response to the challenge of pathological altruism, or problematic caregiving, in refugee resettlement volunteering. The objective of this system is to help volunteers to reflect on their own behaviors and create healthier altruistic actions that can help them provide better services to refugees.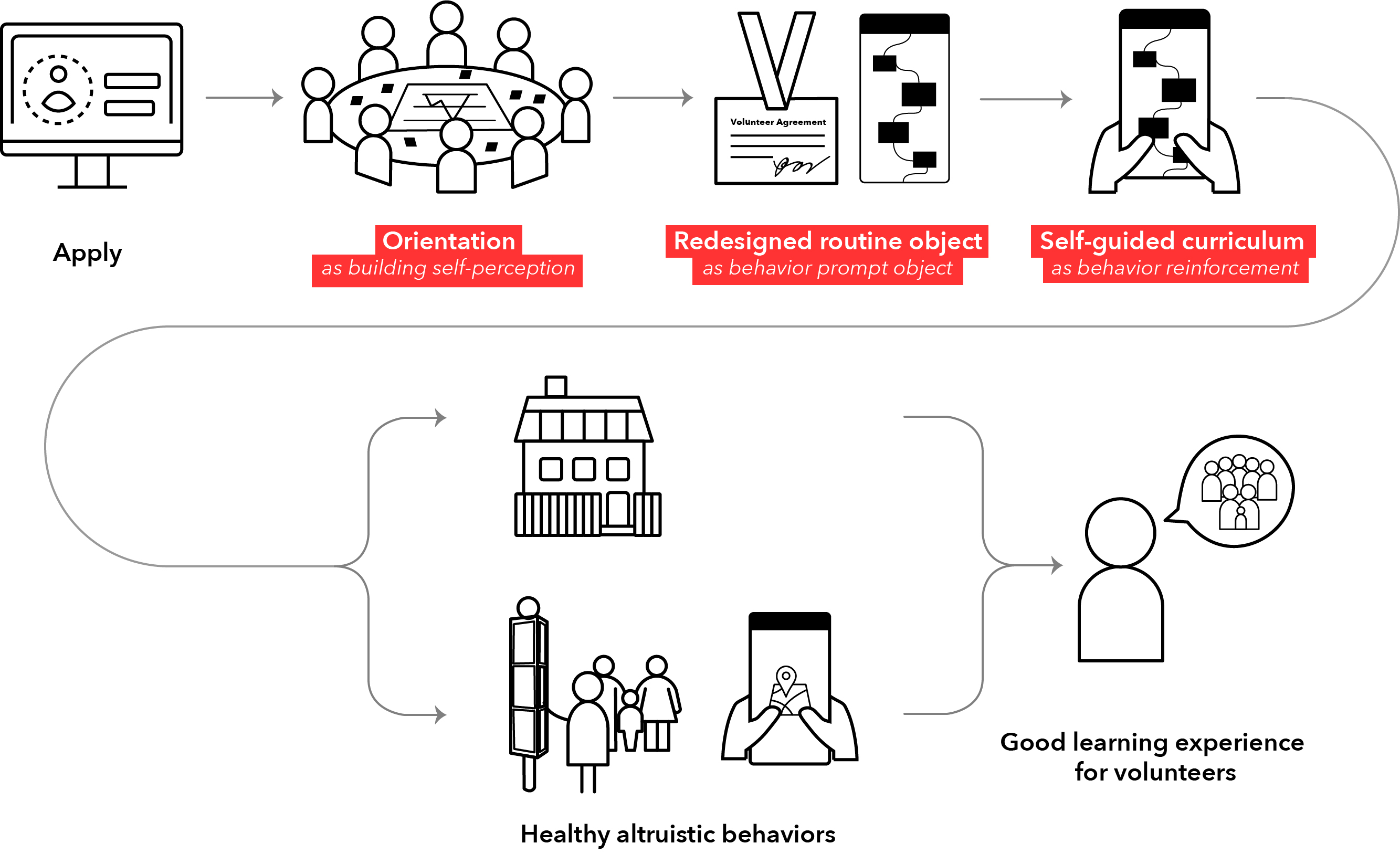 ︎Three-part design interventions to the existing system as final outcome (highlighted in red)
︎Final prototype of the App
THE PROCESS

︎Project process illustration

STAGES OF DESIGN-AS-INQUIRY

There were no predefined stages as I was working on the thesis. However, examining the whole process in hindsight, three milestones marked the progression of the project and the thesis process, which can be divided into three stages.

Stage 1: Validating Assumptions

I started the Design as Inquiry stage with an assumption that the different perception around "help" between refugees and volunteers is the root cause to the pathological altruism problems.


︎

Left: Journey Map for the refugee resettlement
Right: Journey Map for the volunteer engagement

With the aim to understand stakeholders' emotions and perceptions during the resettlement journey, I started the inquiry process by wanting to engage stakeholders with Journey Maps that were designed to engage separately with volunteers and refugees to map out their emotional process and perception of the idea throughout one's resettlement process.

While creating these tools, I tried to reach out to potential partners and engage with refugees and volunteers at the same time. During the outreaching process, I got in contact with the International Rescue Committee Elizabeth (NJ) office, the Catholic Charities New York, Church World Service New Jersey office, the Sanctuary Kitchen New Haven office to introduce my thesis project and demonstrate the tools.

After many trials and fails, this eventually proved to be not possible. The most important reason is that refugees came in with diverse backgrounds and different level of speaking English, so the language barrier made it not possible for me to directly interact with refugees.


Learnings:
Problems are prevalent across different organizations but no one seems to be able to clearly define the problem;

Stakeholders could be Volunteer Coordinators at organizations

Stage 2: Finding Focus

Having learned that New York City is not a typical resettlement place for the majority of refugees and because of my established relationship with the IRC, I reached out to the IRC offices in Northern California - the IRC Sacramento and IRC San Jose office.

While working with the volunteer program staff from both offices, I introduced Challenge Mapping tool to them. During the creative session with we mapped out barriers and values in this space, and reframed the key question to ask in this project as "How might we engage volunteers from a place of informed empathy to empower refugees?"


︎Challenge Mapping outcomes


The reframed questions pushed me to investigate further into:
1. What does "informed empathy" look like?
2. How to inform volunteers?


Learnings:
Focus identified: to engage volunteers from a place of informed empathy to empower refugees;
Partnership established: the IRC San Jose office and the IRC Sacramento office

Stage 3: Co-Designing

Part I

The current orientation was conducted in a lecture style, where volunteers were given information on facts about refugees, the resettlement process and some code of conducts. Even though this form of orientation gives participants a detailed explanation of the context and some commonly ignored or misunderstood facts, participants are passively engaged during the whole orientation process.

I saw the existing volunteer orientation as a good opportunity to bring in workshop format to make orientation a more participatory and engaging experience.

Having learned from research that film and literature is the best way to teach empathy, I designed a Scenario Workshop and invited the staff member from the IRC San Jose office to participate. During the workshop, participants watched a video piece with curated open sourced media contents and were asked to share their thoughts and have a discussion.



︎Scenario Workshop session at the IRC San Jose office with staff and interns from different departments.


The objective of the workshop is to engage participants to have a genuine discussion together around the understanding of refugee crisis to erase some unconscious biases a person may have, to reflect on one's intentions of being a volunteer, to build proprer self-perception in the role as a volunteers and set proper expectations.

By the end of the workshop, participants reflected that during the collective discussion, we talked about so many issues that would never happen if there hadn't been this workshop. Participants, as they are staff, agreed that this kind of format will actively engage volunteers to have an informed understanding of refugees, and even be able to break down the entitlement of volunteers that staff have witnessed in some cases.

Following the Scenario Workshop, participants were asked to sign a volunteer agreement as a gesture of making written commitment and write down their takeaways from the discussion on stickers to assemble a work badge for themselves. The badge kit, containing participants commitment and refections, were then given to them as a

prompt object

to wear every time they go out to work with refugees.



︎Workshop participants creating their own work badge.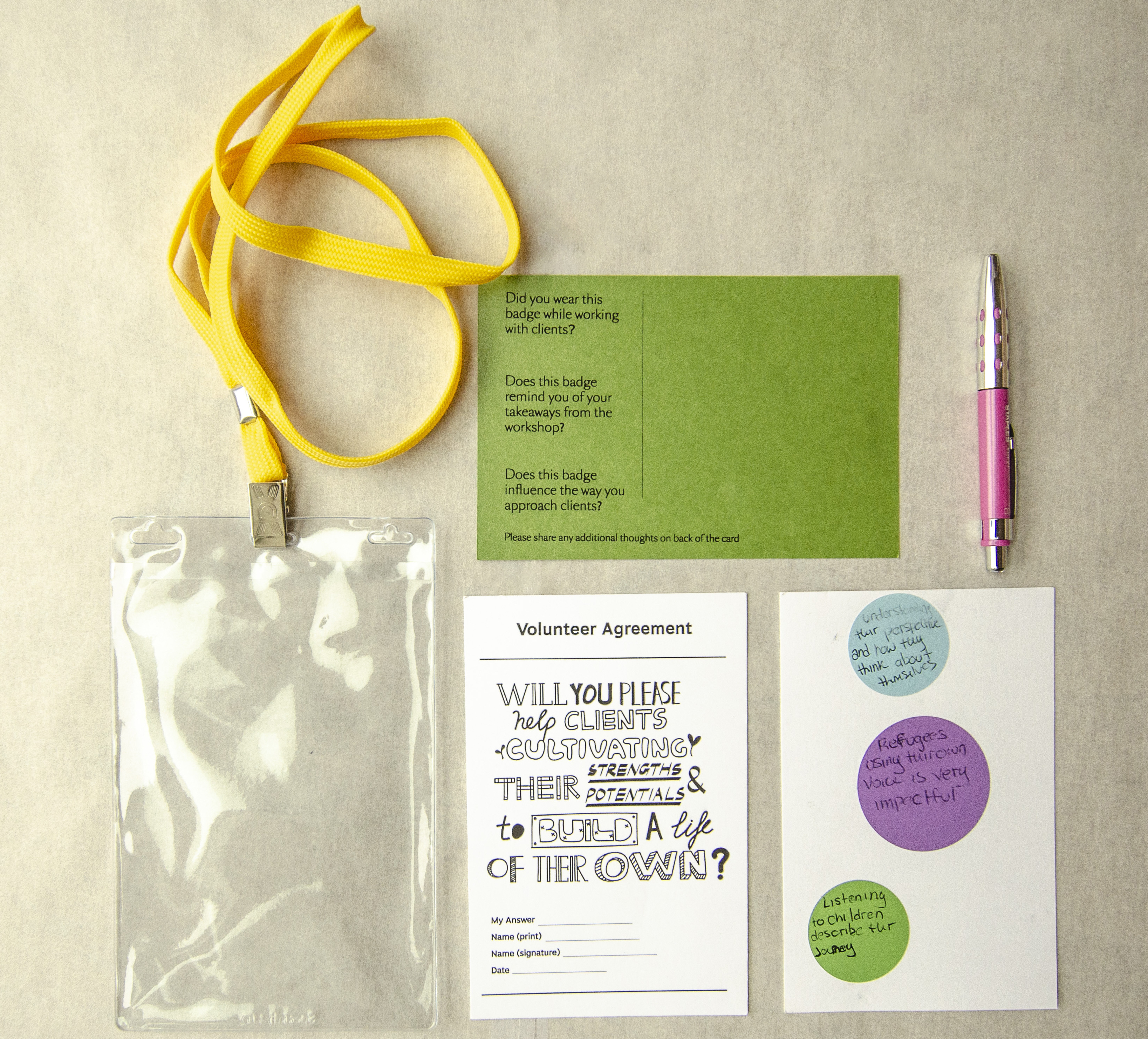 ︎

Left: The Cultural Probe kit
Middle: Work badge front side with Volunteer Agreement;
Right: Work badge back side with workshop takeaways

A review of numerous commitment studies indicated that self- perception is the most critical factor in determining why commitments work. In other words, commitment work when an individual comes to see him or herself as the type of person who believes it is important to behave in a particular way. A study has also proved that written commitments appear to be more effective than verbal commitments. In the previous workshop discussions, participants were guided to reflect on their motivations and expectation of being a volunteer, and the guided discussion was aimed at cultivating a healthy perception of themselves as volunteers, a perception with more informed empathy towards refugees and fewer assumptions of refugee's needs.

As forgetting is a common barrier to people who want to engage in sustainable behaviors, how might we make sure that when volunteers are in the field by themselves while working with IRC clients, volunteers can remember their commitments and act in the anticipated manner? According to a study by Doug McKenzie-Mohr and P. Wesley Schultz on Choosing Effective Behavior Change Tools, Prompts need to be noticeable and self-explanatory and presented in close proximity to the repetitive behavior; prompts should target positive behaviors rather than encouraging the avoidance of negative behaviors. Thus, I tried to tie the reminders of positive behavior to the existing routine of wearing a work badge to create prompts for behavior change.


Learnings:

Onboarding workshop should cover building self- perceptions, setting expectations and roles.




The badge needs to be able to evolve;




The work badge kit doesn't work as intended, but the idea of using work badge as a prompt object is promising.

Part II

According to some behavior change intervention case studies, if the target behavior is extremely difficult, the critical first step to promote behavior change is to make it more convenient. Tying this theory to this thesis project, in order to reinforce positive behaviors of volunteers, there needs to be some kind of artifact that can guild volunteers through a process that's new to them. The rationale of building an artifact like this drew me to the idea of proposing a digital application (the App). significant amount of info, but portable. Thus, the combination of the scenario workshop, work badge and the App formed a system of behavioral tools.

Based on this, I designed the first iteration of the digital application and presented with my stakeholders during the end of March 2019. Participants of this creative session - IRC San Jose staff members and
interns - were the same as participants in the workshop in Part I. When I presented the project to my stakeholders, they give very positive feedback on the function of the digital application and the intention to tie a digital product to an everyday object. In general, participants agree that the combination of initial training, revised work badge, and the digital application is a great system to tackle existing problems and could be implemented in the future.





︎

Low fidelity wireframes of the first iteration of the App



Learnings:


I presented this idea to my stakeholders to invite them to share their thoughts and propose new ideas. During the feedback session, some participants suggest combining volunteers hours log-in with the application, because one of the routines for volunteers is that they have to log in their hours of volunteering. Besides this, stakeholders also suggest making the application sociable so that users can be more actively engaged in the sharing process; and include some prompts to make it even more interactive.




REFINING PROTOTYPES


Therefore, based on this reasoning and all the feedbacks I have received, I revised the prototype.

The main feature of the App is a curated storyline that consists of hybrid media contents to present narratives, a function for users to share their volunteering learnings to create their own storyline and submit the content to be featured on the main storyline and a social platform for users to review each other's storylines to learn about each other's experiences.





︎Left to right:

Animated Launch Screen, The Storyline screen - part I, The Storyline screen - part II, The Storyline screen - part III, Learnings Sharing screen, Personal Storyline and Networking screen


Upon opening the app, users will be taken to a storyline curated by IRC staff members. For example, in the storyline presented here, content is color coded and organized in emotional stages that volunteers often went through. Users can scroll up and down to pick a resource to view. Users can write down their learnings and thoughts, both after reviewing the contents here, as well as after their field work. They can include media content as photos or videos from their field work. They can post the learnings on their personal storylines under either their real name or be anonymous. All postings shared could potentially be reviewed by the IRC staff member and selected as the application storyline content. Users can also connect with each other through the social channel of this App.

REFLECTIONS & NEXT STEPS

Even though the current design interventions are proposed as the final prototypes of this project, there is still room for further refinement and improvement. Due to certain limitations, I did not have access to work with volunteers and refugees firsthand. If I could continue this project in the future, I would like to collaborate with a resettlement agency and carry out this project together with the input from volunteers and refugees since they are the core demographics of the stakeholders. I would also like to expand this project to other situations of caregiving, for example, in the context of cancer caregiving. I want to explore how the current design interventions generated in this project can be applied to another context and what are the changes that need to be made because of the change of context.


---
This project would have not have been possible without the help from:

Faculty Mentor: Jamer Hunt

TransD Thesis Faculties: Lara Penin, Elliott Montgomery, Eduardo Staszowski, Patricia Beirne, Georgia Traganou & Anna Matthiesen;

The International Rescue Committee:
Airbel Center - Elena Matsui, Amanda Porter, Benjamine Moskowitz and colleagues IRC San Jose - Amanda Gamban & colleagues IRC Sacramento - Missy Orr & colleagues IRC Seattle - Adrienne Ramm-Granberg & colleagues

Myles Bryan

Ker Thao

The Transdisciplinary Design Class of 2019

The Poetic Form
︎Role: research, workshop design & facilitation, visual design
---
OVERVIEW


The reality of the criminal justice system in the United States involves more than two million people currently behind bars, something like one in a 100 residents imprisoned and one in 31 citizens in parole or probation. Projects such as the Million Dollar Blocks reveal how specific neighborhoods in the country's big cities are particularly affected by incarceration and how systemic social issues are at the heart of this reality. Here in New York City, Brooklyn Public Library (BPL) has adopted a decisive patron-led approach, and part of Brooklyn Public Library' new strategic efforts include establishing branches as re-entry resource hubs in neighborhoods with high rates of justice involved people.

We start this project by engaging with and contributing to the development of services and programs related to incarceration and reentry offered at the BPL system. In the first phase, we explored the emergence of libraries with an expanded social role, acting as community hubs and converners/venues for democracy and social justice. In the second phase we identified potential new areas for exploration and design action from both the outcomes of phase 1 as well as other relevant actors.


Design-led Research


Besides desktop research, to understand We started the project with designing a workshop as a form of inquiry to engage with community to understand the library's role as a service provider. We held the workshop at the Bedford Branch of the Brooklyn Public Library. Participants of the workshops are current librarians, library staff, designers, officials from the Mayor's Office of Criminal Justice, reentry service providers, community organizers, and patrons.

Workshop structure:


Video ethnography
We presented ethnographic video footages that were shoot at the BPL Bedford library with participants to provide context for non-BPL staff about library's role, function and work. The videos were shoot over the course of two weeks at the library, contents are ranges from routines of library daily operation to conversations with staff around library services. After viewing the videos, participants were asked to write down things that stood out to them and then share with the group.


︎ Participants sharing thoughts generated from watching video footages

2. Card Sorting Activity
Card sorting activities were designed to understand current BPL organization culture and its patron-led approach that works towards serving the needs of its users that might vary in the different branches and neighborhoods/ communities each branch serves. We premade cards in the categories of "I see / I hear / I feel cards" based on our research around BPL services and previous engagement with library staff. Participants were asked to categorze and share the reasons behind their move.


︎ Participants sorting out "I see / I hear / I feel" cards

3. Futures Wheel
Building upon previous discussion and a much clear understanding of BPL's work among all participants, the question comes next is how might we leverage current BPL's organization culture, to provider better services to patrons? And i
n particular, to provide better re-entry services for people in need. In this activity, we used Futures Wheel to provoke participants to expand on the status quo of BPL services to the future of these services. In another word, how can BPL do better?
︎ Participants filling out Futures Wheel around "BPL as service provider"

Synthesis & Ideation

During our synthesis process, one moment in particular from the workshop caught our attention. Amid the activities and exercises, a separate, heartfelt, and extended conversation about identification cards broke out.

In reviewing these conversations, we realized that in the midst of all the changes around and within Brooklyn Public Library, one thing has remained largely unchanged – the library card. The physicality of the early library tickets meant that receiving a card and checking out books was a ritualistic process, with physical stamps dating both the ticket and the book; nowadays, the sheen of technology have replaced the ritual of stamping with the ubiquitous and efficient swipe.

On the one hand, these advancements in technology have allowed the modern library to make time for creating services and fostering relationships. But, on the other hand, this technology has led to the loss of ritual. Library card sign-ups are quick. There is a lack of genuine connection and conversation. Perhaps this lack of communication has contributed to the confusion surrounding the library that we discovered in our workshop.

It was this finding that led us to begin a further investigation of library card sign-up process and the larger service system the card itself entails.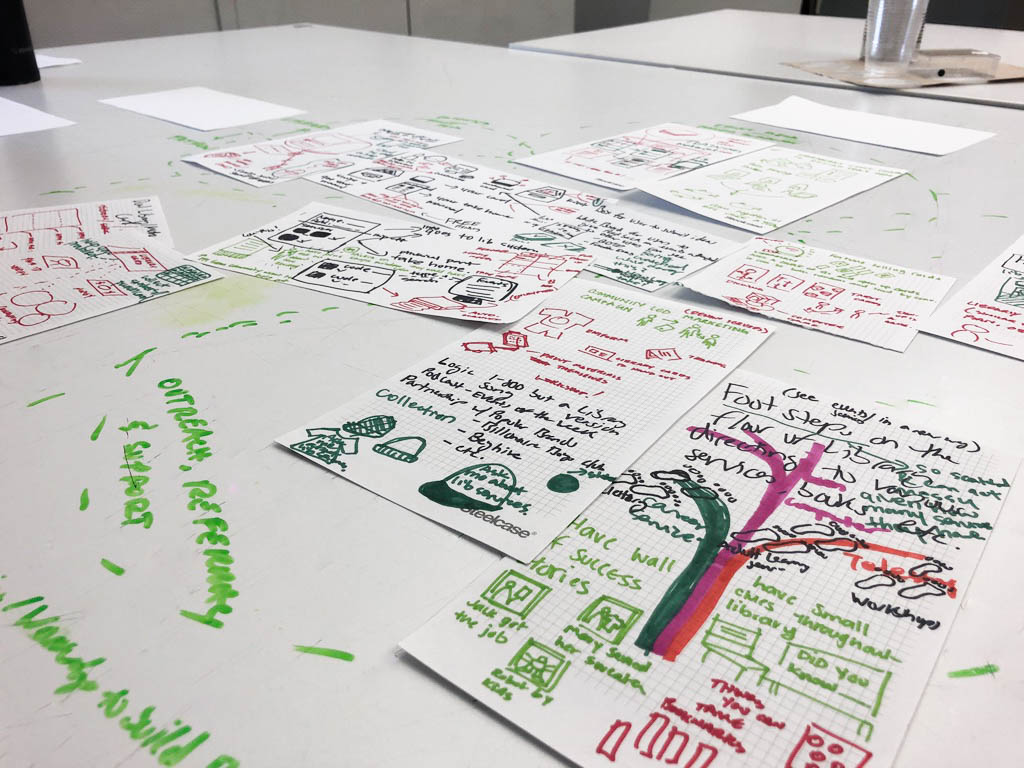 ︎ Sketching and grouping ideation process.


In studying bureaucracies, we came to understand that they might be understood to exist on a spectrum. On one end are the "cold, impersonal" processes that we are all familiar with, inseparable from the DMV and the Hospital. But, on the end of the spectrum are theoretical "poetic" bureaucracies, capable of bringing "wild, impossible fantasies to life."*


︎The spectrum of bureaucratic possibility

We were struck by this notion. We set out to design a form, and a process, which was poetic. We established a set of design principles, framed as a question, which asked:

How might we design a process that:

Provokes Questions
Creates Space for Discussion
Fosters (Systemic, Reciprocal) Learning


We believe that by developing a bureaucratic process which follows these three principles, we would be successful in creating something poetic. We were driven by the question: What is a poetic form?

We generated a number of ideas based on our map. From this initial session, five categories of ideas emerged:

Feedback Loops
Outreach, Referral, Support
Expanded Library Card
Extended Front Desk
Front Desk Support and Process
Design & Prototype


Prototype 1


FAILED


Our most direct attempt at creating a "poetic form" was a redesign of the paper library card application form as a set of cards with some additional questions. When we showed this to the librarians at the Bedford Branch, we found that, actually, there are very few (if any) paper forms available in the library. Almost all library card applications are filled out by the librarians on their computer, or, if it's busy at the front desk, on a designated computer in the library. Once the form is filled out electronically, the librarian checks the patron's documentation to verify the information, and a library card is processed, electronically, at the front desk.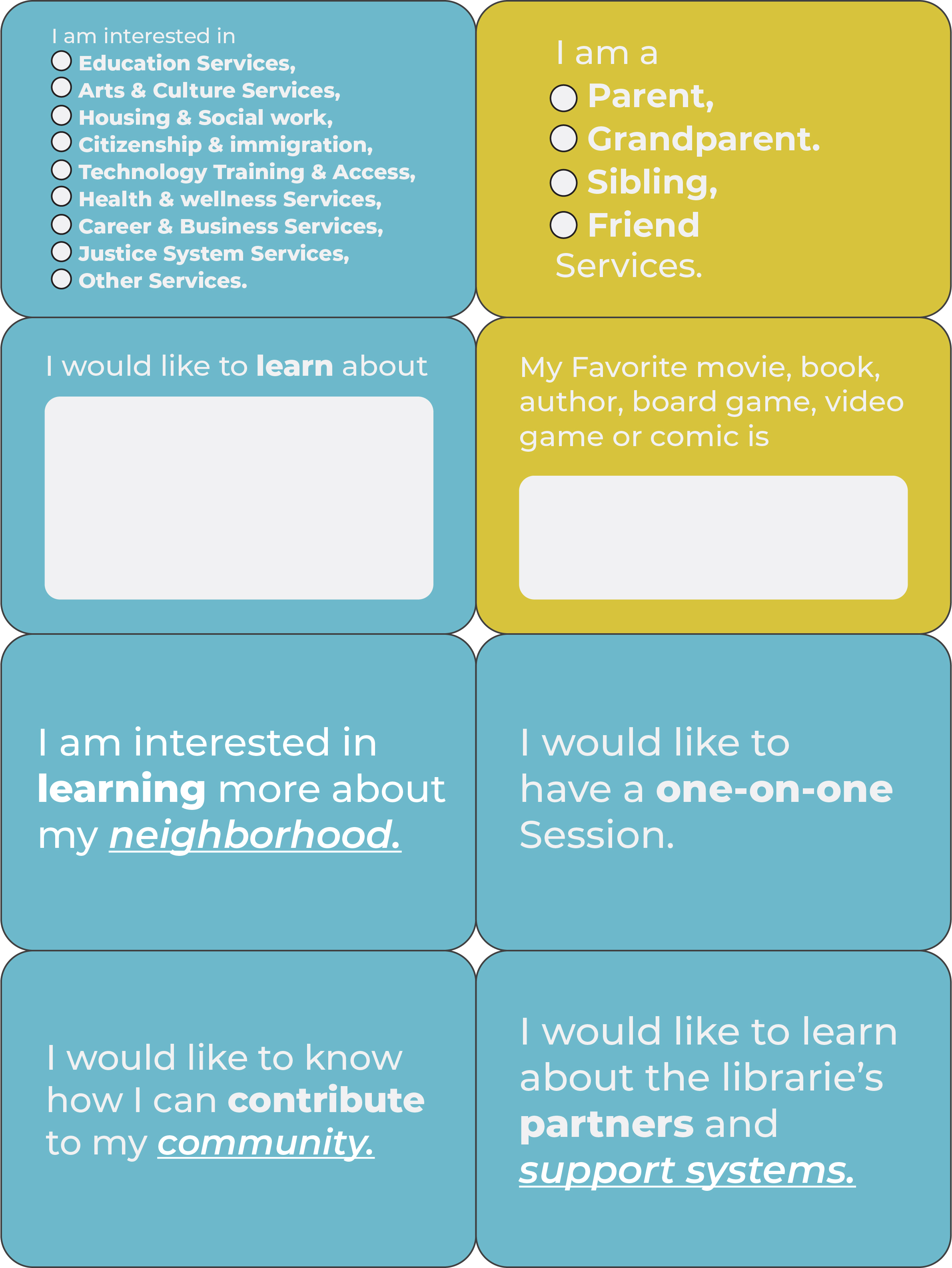 ︎Poetic Form Card concept prototype


We learned:


At the moment, there are no direct feedback mechanisms between patrons and library staff regarding programming and services. We were told that, because of this lack, oftentimes events and programs are poorly attended - the librarians simply don't know what will be successful. By asking patrons if they were interested in any services in particular when they signed up for a library card, the librarians hoped to close this loop.

Prototype 2


FAILED


We redesigned a library card with a brief "word game" on the back. The phrase on the back of each card was randomly generated, based on language from the Brooklyn Public Library 2018 Strategic Plan. The hope was that these cards would create a moment of pause, cause confusion, or encourage conversation between patrons and librarians.


︎Prototype library card prototype concept
When we showed this prototype to librarians, however, the changes were summarily ignored. As it turns out, library card designs change rapidly at the whims of the marketing department, often in conjunction with events or book deals. Librarians often ignore new changes to the card designs. However, in the time we spent at the Bedford Branch, we did observe moments of playfulness as a result of the library card design. For example, there was a charming moment when a patron was given a choice between a boring blue card or a card with illustrations from "Where the Wild Things Are". This shows that perhaps there may be an intervention which plays with the library card design, but this particular prototype intervention was not a hit, perhaps because it was too passive or opaque.


We learned:


We learned that creating a moment of pause, or an invitation for conversation needed to be intentional.

Prototype 3


FAILED


In order to better inform patrons about the services available at the Library, we created a fold-out booklet that would be distributed when patrons received their library card. Again, we hoped to create a moment of pause, to provide information for the patron, and to encourage conversation and playfulness. However, this idea was met with a lukewarm response.

︎Manifold Reference Booklet prototype concept


We learned:


We learned that our intervention would need to be "sticky".
These booklets would need to be printed and shipped to each branch. Similar booklets have been tried in the past, but after some time they fell out of use, simply because they were not reprinted once the initial stock ran out. Because of this, we decided we needed to find another way to share this information, in some way that would stick.

Prototype 4


FAILED


We created a deck of cards with the aim of asking patrons gentle probing question and directing them to services that the library offered. This deck of cards received the most feedback from the librarians. Initially, they were very interested in the idea and encouraging. However, once the librarians took a second look at the deck of cards, they found that there were serious problems with the way the questions were phrased. A lot of the services that the library offers, which were referenced by the cards, are sensitive subjects. The way the questions on the cards were phrased was often assumptive and broached topics that would be deeply personal for many people. Ultimately, the librarians didn't feel comfortable asking the questions on the cards. We asked if the deck of cards could be left on the front desk for patrons to peruse on their own, so that the librarians wouldn't need to ask the questions as they were written. The librarians agreed that this use of the cards was more appropriate, but called into question the "stickiness" of the solution, saying that things have a tendency to "walk away".

︎Librarian notes and sorting of card deck


We learned:


We learned that the process of creating spaces for conversation would need to be an open invitation to share, not a question based on assumptions.

Prototype 5


SUCCEED


After gathering feedback from our prototypes, we proposed a new intervention: The introduction of a new library card sign-up process.
︎Demo of the new library card sign-up process
This sign-up process would ask all patrons what services they would be interested in and invite them to fill in any specific wants or needs. This process also provides links to sign up for a one-on-one session with a librarian and asks if patrons would be interested in learning about the library's extensive connections and partnerships with community organizations.

︎Updated Library Card Backend View for librarians of individual patron data
On the backend, librarians will be able to see a patron's suggestions, both individually and in aggregate. On the individual level, when a patron comes to the front desk to activate their library card, the librarian will see an invitation to begin a conversation about the patron's interests and needs, and share with them information and calendars that may be helpful for accessing services. These communications and calendars are all highly individualized, and the information provided is greatly dependent on time, location, and situation. This application form does not replace the need for communication and connection, it simply invites this communication to happen.

︎Backend view for librarians of aggregate data
In aggregate, the data is collected and presented visually to librarians in a way that encourages conversation. It would be easy to imagine a list of the most requested services, but this seems rather rigid. A wonderful anecdote from our visits to the Bedford Branch is that the librarians came up with the idea to hold a "baby yoga" event - which was a huge success! We want our data visualization to encourage similarly unique events. To accomplish this, we propose a Word Cloud, with filters available to sort the data based on Service Category, Library Location, and Whether Or Not the Service is Currently Offered, as well as Date sorting. By visualizing the data in a way that is vague and (to some extent) randomized, we hope that it will be open to interpretation, and encourage conversation and lead to more creative programs.

Overall, by including this question and backend functionality, we hope to accomplish four goals:

Make patrons aware of all the services that the library offers.
Provide a space for patrons to give feedback and be heard in a private way.
When patrons come into the library to activate their card, the information provided in these questions creates an invitation for conversation.
The information shared can be used by librarians and library staff to plan events and create new service programs.
NEXT STEPS


We understand that our proposal is only a fragment of the larger library service system and we see the potential of leveraging the implementation of this new system to provoke behavioral change around use of library services. In the future, we hope to keep exploring how might we:

Adjust the process to incorporate greater feedback and conversation of BPL services

Explore further the ways in which the new data generated is being collected and used

Adjust the process/Library Cards towards Pre-exit and Re-Entry Processes

Add additional portals or access points to service information


Bibliography Notes:
*Graeber, David. The Utopia of Rules on Technology, Stupidity, and the Secret Joys of Bureaucracy. Melville House, 2016, pp. 141-191.

---
Team: Yuxin Cheng, Alik Mikaelian, Ryan Westphal, Jonique Lyles Special thanks to: John Bruce, libarians at BPL Bedford branch and BPL Central branch staff for anwering all our questions and participating in our co-creation sessions

#FAKEJAMER
︎Role: research, content creation, visual design, motion design
---
OVERVIEW


A Twitter campaign about Jamer Hunt's online fake identities and an ongoing archive of his likeness that are used to pitch everything from security systems to LinkedIn identities. Throughout this campaign and by making this story public, we hope to understand this better uncanny internet story and raise public awareness about online identity.
* Jamer Hunt is the founding director of MFA Transdisciplinary Design at Parsons School of Design, Vice Provost of Transdisciplinary Design Initiatives at The New School.



Research & Strategy Planning

We started the project by reverse searching Jamer's image on Google and building the list of everything we discovered. Throughout the process, we found that only one particular picture would generate search results of different identities of him under the same headshot. Some of them are used for reasons that are relatively mundane, while some others are mildly nefarious.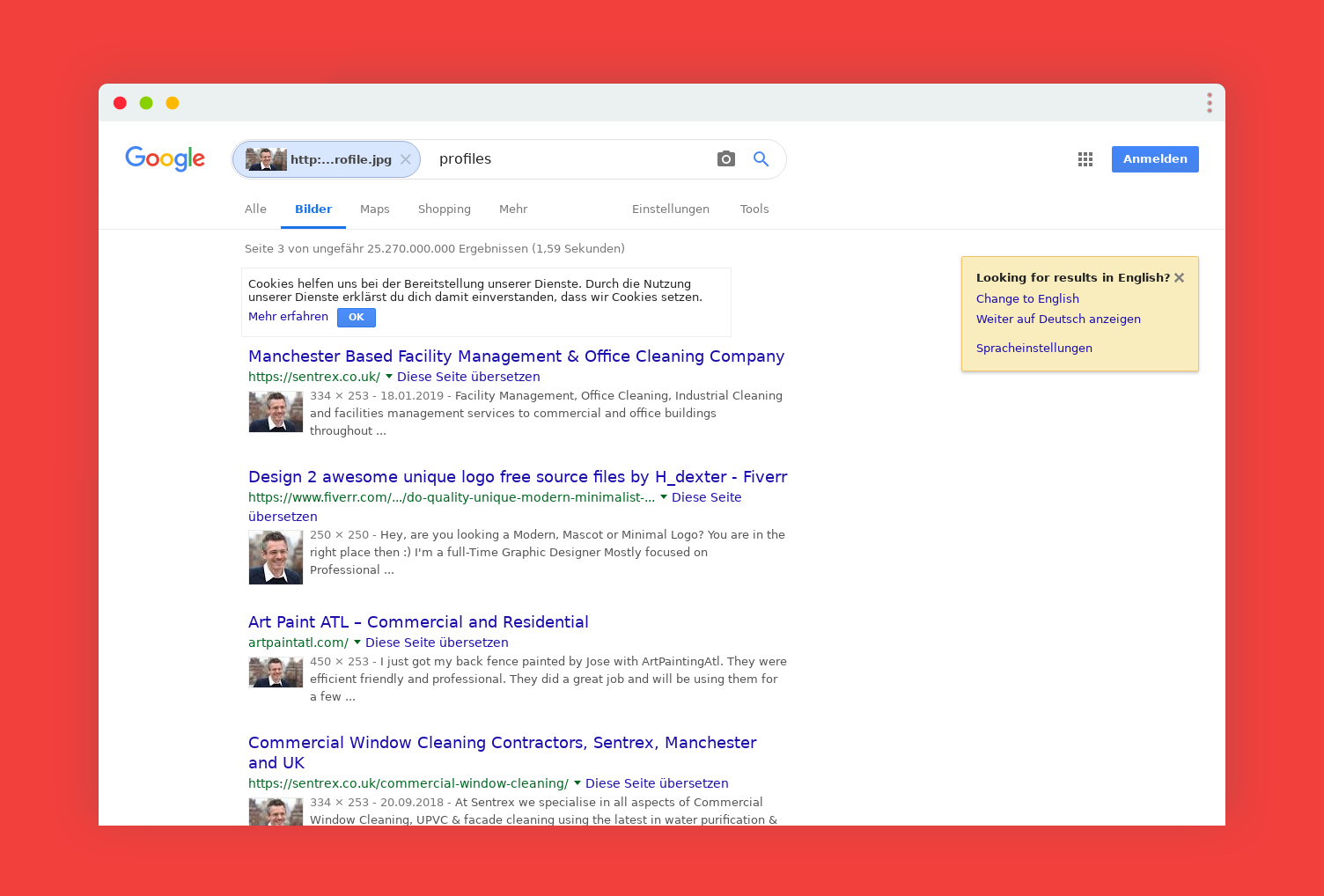 ︎ Reverse search result of Jamer's profile on Google

The search result is also very dynamic - entries come and go - some websites we discovered earlier in time no longer exists; some links we disappear for awhile and come back again.

Having piled up the list for more than 30 entries, we started to think what would be the best way to make this story public and we immediately thought about social media - Twitter seems to be the best choice. Taking into consideration of the traffic on Twitter and the best way to keep audience engaged in about a week's time, the basic campaign structure we decided consists of a motion graphic trailer, a series of Twitter cards, the story (Jamer's writing piece).


Design & Prototype

1. The Twitter card image

Given that Jamer's profile photo appeared in different ways on different websites and the aesthetics varies, we decided to create a template to host all information. The Twitter card will contain information from one website a time.

Some principles I considered while designing the images for feed are a) to ensure that audience will get a full picture each image Jamer tweeted and nothing will be cut off in the feed display; and b) The card should be simple enough but not mediocre to host various information from those websites and some of them could be very loud; c) for audience who joined later in this conversation they should easily be able to track the process and quickly understand the context.



︎ The pixel perfect card: displaying information in a clear hierarchical way.


︎All designed Twitter cards


︎Unused Designs

2. The trailer

After deciding on the card design, I made the campaign trailer (please refer to the uploaded video). The trailer has a glitching effect to imply the inherent glitches of the content on fake cyber identity; the storyline of the trailer is intended to give audience a very quick review of the campaign content.



#FAKEJAMER trailer from Yuxin Cheng on Vimeo.

3. The story

The story image cards should be the collaterals to the white image cards. In order to increase the legibility of long written texts, I made the image cards vertical; to make sure the auto-cut feature of Twitter do not leave random places of the image to show in the feed, I tried a few designs to make sure the system cuts the same part of each card for display.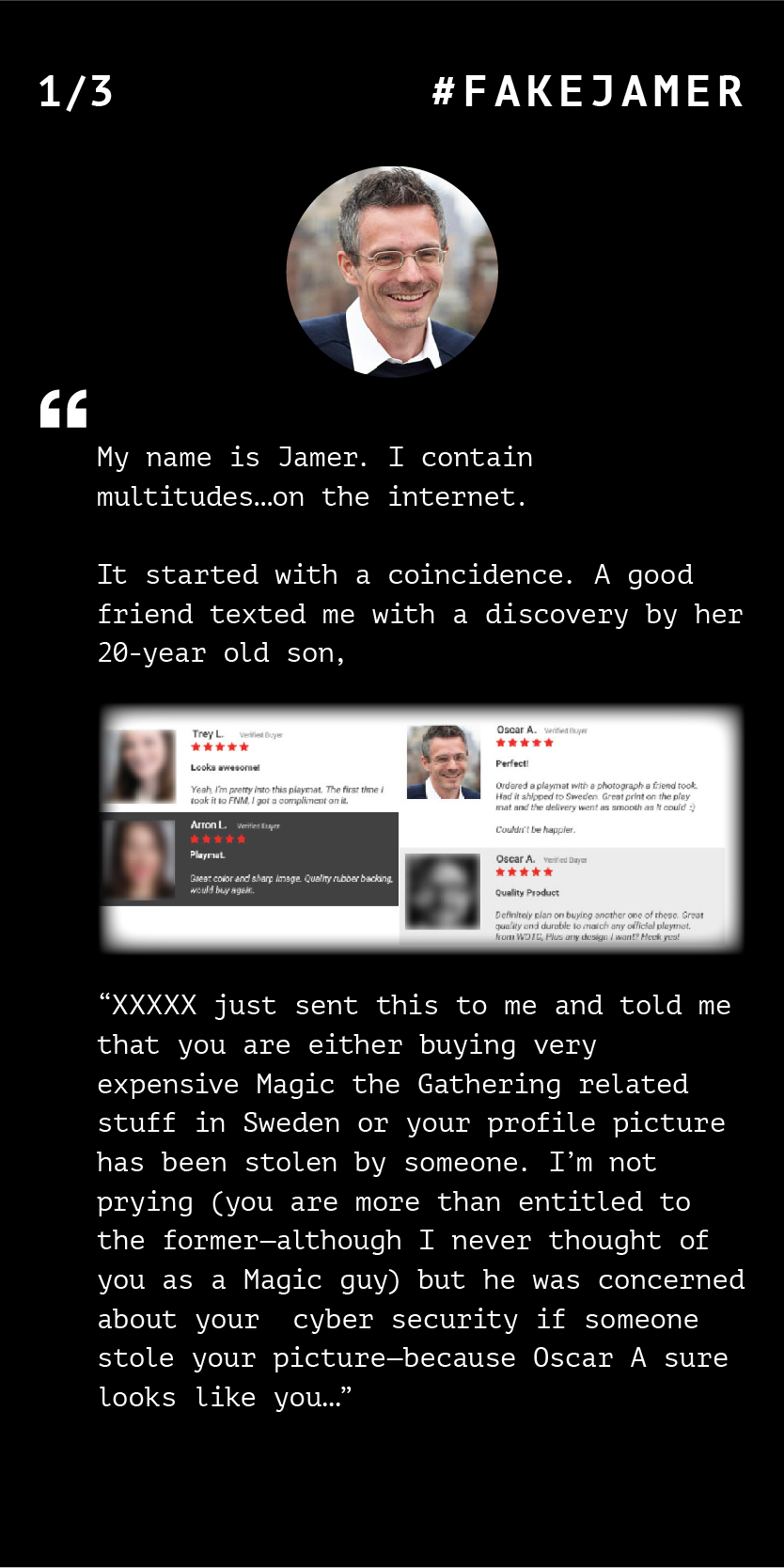 ︎The #fakejamer story card


︎Screen recording of the #fakejamer Twitter feed


TAKEAWAYS

We hope to launch this project to provoke more people to join the conversation about online identity and the prevailing problem of cyber identity theft. The campaign was launched on December 03, 2018. We will keep tracking the progress and decide on next steps.

---
Special thanks for Jamer Hunt: thank you for inviting me to work on this project, thank you for being my mentor, and thank you for all the pleasant conversations we had.
Going Digital
Designing for Resettlement Communication
︎ Project to be presented at 2019 Interaction Design Week
︎Role: research, UX/UI design
---
BACKGROUND


As one of nine resettlement agencies in the U.S., the International Rescue Committee provides clients with a caseworker to coordinate on tasks, as well as many other needs that clients may have. Refugees came in with diverse backgrounds, very different literacy levels and familiarity with technologies. While caseworkers have been proactive in using different digital applications to help with different needs, much of the communication is still relied on laborious work and often creates misunderstandings. Our challenge in this project is to create a systematic and streamlined communications application to avoid strains on time and resources for both the caseworker and clients.


DESIGN RESEARCH

In order to learn about the resettlement process and needs firsthand, we collaborated with the IRC Atlanta office - the largest resettlement offices in the South - on this project. We visited the office with a diverse team, bringing consulting, technology, research, and design skills to make the most of our first field visit.

During our research visit, we spent time shadowing caseworkers and clients, visited clients at different stages of their resettlement process - from airport pick up to 90 days into their resettlement and tested prototypes with the IRC staff and clients.


︎Initial lo-fi wireframes: rounds of testing and iteration while in the field



Double booking, insufficient comprehesion of information, multiple communication platforms standout as the major problems in current situation.





︎Flyers at newly arrived client's home: the key pain points we had anticipated — but had not fully appreciated — were the problems associated with literacy level and language.


Based our research and the fact that many clients come in without access to data plan and Wi-Fi, the technical decision we landed on is a web-based application on the IRC staff side and a SMS based function on client's side. Given this format, how might we:

Measure the comprehension of the messages received by clients?

Reduce the possibilities of miscommunication and time invested in waiting for responses from different departments?

Best solve the obstacles in translation?

Having synthesized all the research results the team identified functions of the app. I mapped out the user flow a staff would go through while using the application. The blue circle marked out the touchpoints being addressed by the feature.


︎ Touchpoints and user flow
PROTOTYPE


We developed this product in an agile manner. The research, develop and piloting process took 3 months in total. We have deployed the product for testing in the IRC Atlanta office for a month and will gather feedback for revision before we rolling out the product to more regional resettlement office. If the application is well-received at different regional offices, we will make this product open-source, allow other agencies to use and tailor it to their own needs.


︎ Competed wireframes - on staff's end
︎ On clients' end: a voice message and a text language in their preferred language and can reply their response by clicking the link
KEY TAKEAWAYS


1. Rigorous research to understand the users
This application is designed for the IRC staff to provide better services for clients. Through our research process, we engaged as many stakeholders as possible to understand the existing problems and their ad-hoc solutions. We did not attempt to provide a new application to change users' habits, on the contrary, we proposed a solution that seamlessly merged into the existing system that will fix the disconnected parts.

2. Design for inclusiveness
While there are many existing digital applications designed for refugees, not every refugee has a smartphone or is fluent enough in digital and literacy level to take full advantage of these applications. We aim at using technologies to provide better services to clients settling down when they first arrived in the States and beyond. We recognized the limitations newly arrived refugees may have and leveraged the existing service that the IRC provided to include as many refugees as possible.

3. Expansion strategies
We will expand the use of the application to different regional IRC offices, but we will make it open source that can allows different regional offices or even other agencies to adapt the application to the best of their needs.


---
Project housed in Airbel Center at the International Rescue Committee
Special thanks to: Natan Last, Amanda Porter, Dylan Sun, Indrani Das, Bruno Geninatti, Ben Moskowitz, Grant Gordon, Chris Carpenter and Birtukan Assefa
bactoyou™
︎ Biodesign Challenge Summit 2018
Finalist
︎ RISD Biodesign: From inspiration to integration
︎Role: research, visual design and animation
---
OVERVIEW


bactoyou™ is a microbial time machine that empowers its users to collect, sequence, explore, and bac-up their previous microbial states; By creating a historical database of their microbiome over time, we allow users to "jump back in time" and reconstitute their present gut microbiome based on specific previous states.




RESEARCH

1. Landscape Research
Our microbiome is composed of trillions of bacteria; most are collected from our surroundings and the food we eat, many are passed down through generations, and some might even come from the person sitting next to you. It is still unknown how the microbiome works exactly, yet we do know it influences us in many ways. For example:




︎Factors that affect human's gut microbiome situation



Going through the current technological solutions for sequencing DNA, we learned about some existing devices that make this possible. But the problem is that they are all very tech-centered and are all designed to be used by the scientists and experts. So we decided we wanted the blend the current technology into some solution that is more human-centered.


Digitiser
University of Helsinki
MinION Oxford Nanopore Technologies
Microfluidic chip Brigham Young University
Microfluidic paper Wyss Institute
2. Data use, Protocol and System
︎Current systems at place



Current systems at place are company oriented. Meaning that users buy their services and those companies retain the right of using users' data. The more the user, the larger the database. These companies use their user database to make profits from research while users share nothing from these profits.

The greater we increase the user database, the faster knowledge will advance. As designers, we are here to make sure that, in this process, users remain at the center of the operation. bactoyou™ is trying to establish a protocol in the microbiome so that users will always be aware of the research, accessing the benefits, and enjoying a healthier life.

︎bactoyou™ data use protocol
︎bactoyou™ full service system map


Through this service, we aim to inform users of the importance and possibilities that their microbiome data holds for future health and well-being, while at the same time promoting behavioral change towards a healthier way to relate with our bacterial self. bactoyou™ intersects society at the boundaries of globalization, science and health. Our mission is both to help people understand and benefit directly from science and to help scientists thrive and benefit from public interest and participation in science.


PROTOTYPES

1. The Home Sequencer

From all the current technologies, the way MinION functioned attracted our attention because relatively, It's a more user friendly solution with a lot of advantages. Being inspired by its technology we started developing ideas around how we can translate that to a domestic object that would come into our lives and merge with the existing restroom ritual. We decided we would add it to a toilet paper holder and make the sampling, part of the pooping process.





︎Preliminary sketches to explore ideas



We want to integrate the cutting edge technology of sequencing poop samples into users' existing restroom ritual. These are the results we landed on. There are three different versions of the product:





︎Prototype renderings



As we mainly designed the product having the western user in mind, we also observed the different cultural requirements knowing that not everyone uses the toilet in the same way. As a result we designed the squat version for people who don't use toilet papers in order for them to make the sampling possible with a cotton swab instead.





︎Taking cultural factors into consideration




2. bac-up pad

The pad slot on the sequencer will push out a bac-up pad after being activated. The user can then takes the pad for sampling and send bac to the intake slot of the sequencer.



︎5 easy steps of using the bac-up pad



3. bac-up pills

bactoyou™ users can order their customized bac-up pills based on any chosen reports from their bac-up time machine. The bac-up pills contains the duplicate of a user's gut microbiome as it was on the selected date. The bac-up pill is the perfect way for users to regain their lost bacteria.


︎bac-up pills packaging
VISION

For immediate benefits, there will be raised awareness of the relationship bt a person's health and the bacteria living in his body;
For the short term benefits, we are looking at behavioral change that the society will overcome the resistance of working with stools;
For the longer term benefits, as users gradually build up their own database, users will be able to monitor the changes that's happening to their bodies.


FEEDBACK FROM THE FIELD & TAKEAWAYS

As we were developing the project as a group of designers, we got in touch and got many feedbacks and comments from some experts in the microbiome science field. Our project was very well received as an extremely promising concept. However, we know that in order to make this prefered future come true, we will have to collaborate with scientists, technologists and people from many other fields. We sincerely hope and will make all efforts to keep this project rolling.

Prof. MD. Martin Blaser
Director of the Human Microbiome Program at NYU School of Medicine
"I like this project very much. These students have captured an approach to process, in which the whole is clearly greater than the sum of its parts. Injecting their new ideas helps keep this field moving ahead, and can catalyze many future (and currently unknowable) innovations."
Dr. Daniel McDonald

Scientific Director of the American Gut Project Spokesman, Rob Knight lab.
"I love the concept, it's like poop combined with Apple Time Machine."
Dr. Mathijs Bergman

Amsterdam Institute for Molecules, Medicines and Systems
"With increasing knowledge on the correlation between gut microbiome and obesity, anxiety and depression, bactoyou™ offers the possibility to go back to the composition of the microflora even in case of psychological complaints in the time that these complaints did not yet occur."
Dr. Amanda Hurley

Postdoctoral Researcher at Wisconsin Institute for Discovery, former Molecular Biology researcher at Princeton University
"bactoyou will revolutionize personalized medicine."
Prof. Leendert Hamoen

General Microbiology, University of Amsterdam
"With bactoyou physical and mental data can be linked to the system, eventually correlating these variables to microbiome dynamics."



Associate Prof. Davida Smyth

Chair Natural Sciences at Mercy College
"It's so NY. You can get everything delivered to your door, your food, your laundry .... and now your own customized poop pill .... Back to the Poopture."



---
Team: Yuxin Cheng, Juliette Van Haren, Arian Ghousi, Ignacio Garnham Brandes.
Special thanks to Jane Pirone, Jennifer Wightman, Heather Dewey-Hagborg,
Angelica.S.Jang , Lisa Norton and Katayoun Chamany, for your ongoing and generous help and support